The Palestine Liberation Organization endorsed U.S.-mediated talks with Israel on Sunday and Washington envoy George Mitchell met the Israeli prime minister to discuss getting those negotiations under way.
The PLO Executive Committee, meeting in Ramallah to review a move by President Mahmoud Abbas to end a 15-month hiatus in talks, said they must focus on the issues of "security" and the borders of the state the Palestinians aim to establish in the West Bank and Gaza Strip, with East Jerusalem as its capital.
Israel, which has welcomed the decision Abbas made last week with the endorsement of the Arab League, has said the Palestinians can raise any issue in the talks, which President Barack Obama's Middle East envoy Mitchell will mediate.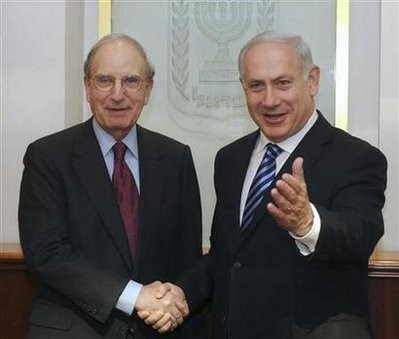 Israel's Prime Minister Benjamin Netanyahu (R) stands with U.S. envoy George Mitchell during their meeting in Jerusalem March 7, 2010
Mitchell, who has been trying to broker a resumption of peace talks for a year, met Israeli Prime Minister Benjamin Netanyahu in Jerusalem. He is due to meet Abbas, who leads the PLO, on Monday in Ramallah, just outside Jerusalem.
Many observers and politicians doubt that the "proximity talks" can succeed where years of negotiations have failed.
"It is difficult to believe that the mediator is going to succeed in bridging the deep chasms that separate them," wrote Shimon Shiffer in Israel's top-selling daily Yedioth Ahronoth.
Sources on both sides have said they expect Mitchell to secure agreement on a format for talks between negotiators to begin fairly soon, possibly in Washington or elsewhere abroad.
"The Palestinian leadership decided to give the American proposal a chance on condition that these talks focus at the start on the two subjects of borders and security," the PLO executive said in a statement after its meeting.
For the negotiations to continue beyond the four months set by the Arab League, they should also "reach agreement ... on the 1967 borders as the basis for the two states," it said, in reference to borders on the eve of the 1967 Middle East war.
The Hamas Islamist movement, which has controlled the Gaza Strip for 3 years and rejects past interim peace deals with Israel, is not part of the PLO, an umbrella group founded in 1964 and dominated by the Fatah faction which Abbas also leads.
The PLO statement said Israel must halt all settlement building in the West Bank and East Jerusalem before any resumption of face-to-face talks. However, Palestinian and Israel sources have said in recent days that informal, direct negotiations seemed likely once the "proximity" talks start.
Abbas has rejected a limited, temporary settlement freeze announced by Israel in November, under U.S. pressure, as insufficient for a resumption of negotiations.