NATO stepped up peacekeeping patrols in northern

Kosovo

Tuesday and the EU and US appealed for calm after the government in Pristina ordered police to seize control of two border crossings with Serbia.
EU foreign policy chief Catherine Ashton demanded immediate action from Serbian President Boris Tadic and Kosovo prime minister Hashim Thaci to ease mounting tension.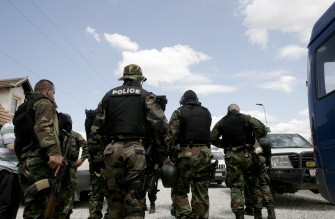 Kosovo police special unit officers secure an area near the divided town of Mitrovica on July 26, 2011.
Ashton expressed "the EU's concern over the escalation of tensions in northern Kosovo," her office said in a statement.
"She stressed that it is essential to restore calm immediately," added spokeswoman Maja Kocijancic.
The seizure of the crossings marked a sharp escalation in a trade dispute between Kosovo and its former rulers in Belgrade, ramping up tensions in an area mainly inhabited by ethnic Serbs.
It also cast a further cloud over ongoing peace talks, brokered by the EU.
The United States called on both sides to work to ease tensions, saying that Washington "regrets" that Kosovo's action "was not coordinated with the international community."
"We call upon the governments of Kosovo and Serbia to continue to work urgently toward a de-escalation of the current situation," acting deputy spokeswoman Heide Bronke Fulton said.
NATO spokeswoman Carmen Romero said that Alliance peacekeepers in Kosovo (KFOR) had taken action to defuse tensions, holding talks with authorities in Kosovo and Serbia and calling on both sides to resolve the dispute through dialogue.
"NATO is increasing patrols on the ground, without deploying reinforcements, and increased the alert level of its troops," Romero told AFP.
As both the European Union and NATO expressed displeasure, Thaci said in Pristina that his government's "only goal was and is to establish the law and order on the whole territory of our country."
"We can not be indifferent forever that one part of our territory remains a black hole. We can not allow forever our sovereignty to be jeopardised," Thaci told a brief press conference.
Although Kosovo unilaterally declared independence from Serbia in 2008, the ethnic Serb minority which is mainly concentrated in the north has never recognised the breakaway Pristina's government's authority.
With memories still raw of the 1999 conflict between Kosovo's ethnic Albanian majority and Serbia, the European Union said the seizure of the border crossings "was not helpful."
"This was not done in consultation with either the EU or the international community," said Kocijancic.
Tadic also appealed for calm and urged for restrain from "any provocations."
"Serbia will not lead a war, but we warn everyone that the use of violence bears horrendous risks," Beta news agency quoted Tadic as saying during his visit to Prague.
He warned that Pristina's move to seize border crossings was a "threat to the peace process to be brought to an end before it gives obvious and concrete results."
The operations at the Brnjak and Jarinje border crossings were designed to replace local ethnic Serb police officers suspected of turning a blind eye to imports since a ban was introduced a week ago.
The raids however met with resistance from locals and one officer was severely injured by a firearm, police said. Another suffered slight injuries from a hand grenade blast, believed to have been thrown by an angry Serb mob. Several others were injured after being pelted with stones.
Belgrade condemned the "unilateral" Kosovo move, with Borko Stefanovic -- chief negotiator at the EU-brokered talks -- saying it was aimed at "provoking the Serb people living in northern Kosovo."
Serbia imposed a ban on imports from Kosovo immediately after the 2008 independence declaration but Pristina's decision to take a reciprocal step last Wednesday caught many by surprise -- especially as there had been signs of a thaw in ties in the last round of dialogue.
Serbia is one of the main exporters to Kosovo with exports totaling 260 million euros ($370 million). More than 90 percent of Kosovo's imported food supplies come from Serbia.
Authorities in Kosovo have long argued that the Serbian embargo is unacceptable as both parties are signatories of a regional free trade accord which stipulates the free movement of goods throughout the Balkans.