The Philippines said Monday that it had urged China to bring their conflicting claims to the East Sea before a United Nations-backed tribunal.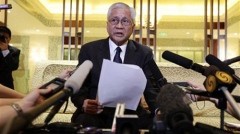 Foreign Secretary Albert del Rosario told reporters in Bejing
Foreign Secretary Albert del Rosario said he called for their dispute to go before the International Tribunal for the Law of the Sea in his meetings last week with senior Chinese officials, but he received no clear reply.
"The Philippines is prepared to defend its position in accordance with international law, consistent with UNCLOS, and we asked them if they will be willing to do the same," del Rosario told reporters.
Del Rosario recalled that China had previously stressed that it wanted the East Sea dispute to be "discussed by claimants and not in international forums".
"I don't think their position has changed," he said.
The International Tribunal for the Law of the Sea is an independent judicial body established by UNCLOS, the United Nations Convention on the Law of the Sea, to handle disputes under that convention.
Del Rosario said that during his meetings, he pointed out that the Philippines' claim over parts of the East Sea, including the Spratly islands, were "based on international law, specifically UNCLOS".
Chinese officials however said their claims were based on "historic rights," the secretary said.
Del Rosario met Chinese Vice President Xi Jinping and Chinese Foreign Minister Yang Jiechi in his visit to Beijing last week.
The Philippines and Vietnam have in recent months accused China of taking increasingly aggressive actions in staking its claims in the disputed waters, including an incident where the Chinese allegedly fired on Filipino fishermen.
In April, the Philippines lodged a formal protest at the United Nations over China's claims.