MANILA, Aug 23, 2011 (AFP) - Philippine President Benigno Aquino vowed on Tuesday a stronger military defence of his country's South China Sea claims as the navy's newest warship sailed into Manila Bay from the United States.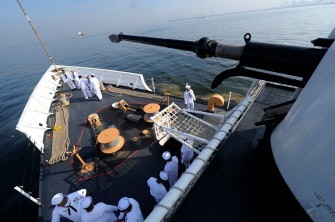 AFP - Philippine navy stand on board the newly acquired and refurbished Hamilton-class cutter Grogorio del Pilar docked at Pier 13, South Harbor, in Manila on August 23, 2011
"This ship symbolises our newly acquired ability to guard, protect, and if necessary, fight for the interests of our country," Aquino said as the refurbished Hamilton-class cutter Gregorio del Pilar dropped anchor.
"This is just the beginning. Expect more good news because we will not stop at one ship."
Aquino said the former US Coast Guard cutter, which the navy said was turned into a "patrol frigate", would protect the Southeast Asian archipelago's exclusive economic zone and its oil and gas activities in the South China Sea.
"This will upgrade our capability to guard our exclusive economic zone as well as the (oil and gas) service contract areas," he said in a welcoming speech.
Many of those areas are claimed by China, which insists it has sovereign rights to almost all of the South China Sea, even waters approaching the coasts of Southeast Asian countries.
The competing claims have for decades made the sea one of Asia's most dangerous potential military flashpoints, and tensions flared this year after the Philippines and Vietnam accused China of becoming increasingly aggressive.
The Philippines said the Chinese navy had fired warning volleys at Filipino fishermen in the South China Sea, harassed an oil exploration vessel and put up markers on Philippine islets.
As the row escalated, the Philippines appealed to longtime ally the United States for help in beefing up its poorly-equipped military, with Aquino saying his country could not contain China on its own.
The Philippine navy has a tiny, old and poorly equipped fleet, with its flagship vessel a World War II-era destroyer it acquired from the United States decades ago.
The Gregorio del Pilar is a 115-metre (378-foot) vessel with a helicopter flight deck and a retractable hangar.
The Philippines acquired it early this year -- before the tensions with China flared -- under a 1951 mutual defence treaty that gives Filipino access to American defence equipment no longer used by the world's top superpower.
The United States has since promised to help upgrade the Philippine military further.