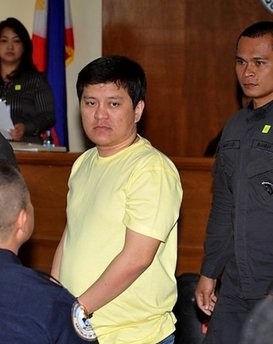 (AFP file) Maguindanao massacre suspect Andal Ampatuan Jnr., enters a courtroom at a maximum security prison in Taguig, in July 2010.
MANILA (AFP) – A powerful Muslim politician went on trial Wednesday, accused of murdering 57 people in the worst political massacre in the Philippines, AFP reporters in the courtroom said.
The first witness, a man named Lakmudin Suliya, climbed onto the stand after lower court judge Jocelyn Reyes rejected a motion by lawyers for main defendant Andal Ampatuan Jnr to move back the start of the trial 10 days.
Ampatuan and more than 100 gunmen allegedly stopped a convoy belonging to a political rival in the southern Philippines in November last year, killed 57 people and pushed the bodies into mass graves the suspects had dug beforehand.
Manette Salaysay, a relative of one of the victims who attended the court session, hailed the start of the trial, which had been delayed for five months.
"It is difficult to fight these devils," she told AFP, referring to Ampatuan and 16 police officers also facing trial, accused of taking part in the massacre.
"We want to see the light of justice," Salaysay added.
Ampatuan, wearing a yellow prison shirt and flanked by plainclothes police, sat impassively behind his lawyers as the witness was sworn in.
The trial, held at a special courtroom built inside a maximum-security police jail in southern Manila, is being held amid allegations of witness intimidation and fears the case could drag on for years.
It was to start last week but Reyes moved it back seven days to give the Ampatuan lawyers more time to comment on previous court rulings related to the case.
Rights groups and the victims' relatives have accused the Ampatuans of applying delaying tactics while ordering their men to terrorise witnesses.
Elaine Pearson, deputy Asia chief of the New York-based monitor Human Rights Watch, said five people with knowledge of alleged abuses by the Ampatuans had been killed since the massacre.
The five included a key massacre witness who could have placed Ampatuan at the scene, she said.
"Abuses in Maguindanao have not stopped with the arrest of six members of the Ampatuan family," Pearson said in a statement.
"Prompt investigation of ongoing crimes is essential to prevent further killing and to stop suspects from interfering with the trial."
At least 30 journalists were among those shot dead in the massacre in Maguindanao province in the single biggest attack on the working press in history, according to global press watchdogs.
Five other Ampatuans, including the patriarch Andal Ampatuan Snr, are among the 196 people facing charges related to the massacre, although more than 100 of the alleged gunmen remain at large.
Ampatuan Jnr, then a local mayor, allegedly led the massacre to stop the rival from running against him for the post of Maguindanao province governor in this year's national elections.