Millions of terrified flood victims in the Philippines, many of them in cramped evacuation camps or still cleaning their homes, braced Thursday for another storm bearing down on the country.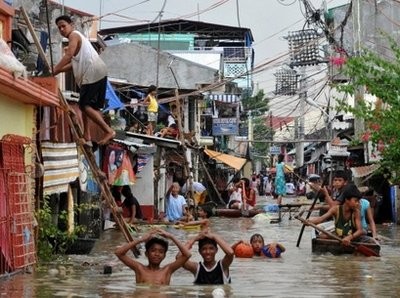 Residents are seen wading through a flooded street in the town of Binan, Laguna province, south of Manila, on September 30.2009. (AFP Photo)
"We must prepare for the rain and the wind," chief government weather forecaster Prisco Nilo said as Typhoon Parma churned towards the country and nearly 700,000 flood survivors crowded into makeshift government-run shelters.
Disaster officials fear more rains spawned by the typhoon could trigger another massive flood as streets and drainage systems remain clogged from the tonnes of debris left by the previous deluge caused by storm Ketsana.
Ketsana dumped the heaviest rains in more than four decades on Manila and surrounding areas of Luzon islands on Saturday, submerging most of the national capital with up to six metres (20 feet) of water.
The number of people confirmed killed in the disaster climbed to 277, the government said Thursday, a rise of 31 from the previous day, with 42 people still missing.
After the Philippines, Ketsana powered on to other parts of Southeast Asia, killing 86 people in Vietnam and 11 in Cambodia.
The number of people known to have been affected by Ketsana in the Philippines rose to 2.5 million on Thursday, according to the government's latest update, up nearly 300,000 from Wednesday's estimate.
The number of flood survivors staying in gymnasiums, schools and other makeshift evacuation camps also continued to rise, with about 687,000 people known to be staying in them, the government said.
Those in evacuation centres feared fresh rains would aggravate the already squalid conditions, and further hamper over-stretched relief efforts.
As Typhoon Parma approached, worried residents who had returned to their homes after the waters receded, and those whose houses were unaffected, were stocking up on food and emergency lights.
As of dawn Thursday, the typhoon was 650 kilometres (400 miles) east of Borongan town on the eastern island of Samar.
It was moving on a west-northwest trajectory toward the northern part of Luzon island with sustained winds of 150 kilometres per hour (93 miles per hour) and gusts of up to 185 kph (115 mph), the weather bureau said in its latest update.
If the storm maintained its trajectory, it would spare Manila and surrounding regions still reeling from the impact of Ketsana, Nilo said in a radio interview.
However, Nilo warned he was not ruling out the possibility that Typhoon Parma would change course and strike the central Luzon region just north of the capital and dump more torrential rain in the disaster zone.
And even if it did not score a direct hit, its outer rain band could still cause damage in Manila, while heavy winds would cause additional problems.
Weather forecaster Mario Palafox said in another radio interview that Parma had the potential of becoming a super-typoon, referring to storms with sustained winds of over 180 kph (110 mph).
The lowest of a four-step storm signal was raised over the provinces of Camarines Sur, Camarines Norte and Catanduanes on Luzon's eastern coast, weather officials said, warning fishermen against venturing out to sea.