MANILA, Nov 15, 2011 (AFP) - The Philippine Supreme Court said Tuesday it had overturned a government ban on ex-president Gloria Arroyo travelling abroad that was put in place amid fears she planned to flee a corruption probe.
The decision was the latest blow to a high-profile campaign by President Benigno Aquino to have his predecessor and arch-rival charged with corruption and rigging the 2004 national elections.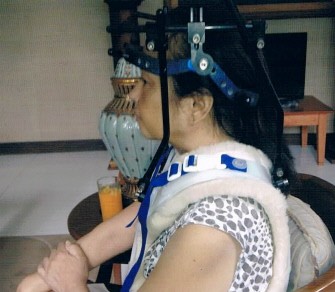 AFP - This undated handout photograph released by the Office of Congresswoman Gloria Arroyo on November 9, 2011 shows Philippine Congresswoman Gloria Arroyo pictured wearing head and shoulder braces in Manila.
Supreme Court spokesman Midas Marquez told reporters the judges had ruled 8-5 that the ban imposed by the government last week on Arroyo and her husband was unconstitutional because they had not yet been charged with any crime.
"They (Arroyo's lawyers) were able to show... the (travel ban) would probably work (as) an injustice against them," Marquez said.
"This was of course consistent with the constitutional presumption of innocence."
Arroyo, 64, has said she needs to urgently seek medical treatment overseas for a rare bone disease.
But Aquino and his justice secretary have said they believe she may flee to countries that have no extradition treaty with the Philippines.