Army Gen. David H. Petraeus told Congress yesterday that the deployment of 30,000 more troops to Iraq has made enough progress that the additional combat forces can be pulled out by next summer, but he cautioned against "rushing to failure" with a larger and speedier withdrawal.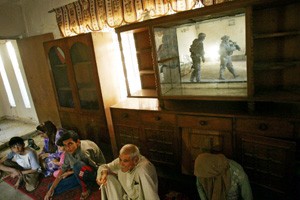 An Iraqi family sits together as US soldiers from 1-40 Cavalry Squadron search their home during a patrol into southern Baghdad, Sept. 11, 2007. (AFP Photo)
In what some called the most anticipated congressional testimony by a general since the Vietnam War, Petraeus presented an upbeat picture of improving security conditions in Iraq and offered a grim forecast of the "devastating consequences" of a more rapid pullout. Petraeus said his forces "have dealt significant blows" to al-Qaeda in Iraq but warned that Iran is now fighting a "proxy war" against Iraqi and U.S. forces there.
Gen. David H. Petraeus and U.S. Ambassador Ryan Crocker appeared before a joint hearing of the House Foreign Affairs and Armed Services committees Monday to give testimony on the results of the Bush administration's "troop surge" in Iraq.
The partial troop pullout Petraeus outlined in a joint appearance with Ambassador Ryan C. Crocker represents a modest acceleration of what military planners were privately forecasting but is the first drawdown the two men have publicly supported since becoming the top U.S. military and civilian officials in Baghdad. President Bush, in a televised national address later this week, is likely to adopt the recommendation for this rollback of his troop "surge," while war critics immediately condemned it as too little, too late.
Either way, the general's report and troop proposal opened a new phase in the fractious Washington debate over the future of the U.S. venture in Iraq nearly 4 1/2 years after Bush ordered an invasion to topple Saddam Hussein. From this point on, the argument will no longer be about whether to withdraw U.S. troops but about how many to pull out and how quickly.
Petraeus's plan would rotate 2,200 Marines out of Anbar province in western Iraq this month without replacing them, then begin pulling out 17,500 Army troops and 2,000 more Marines starting in mid-December. If logistics personnel and other supporting troops are also withdrawn, that would return force levels to the "pre-surge" number of 130,000 by mid-July. The general asked Congress to defer decisions on further reductions until March to get a better sense of the political and security situation.
"Like Ambassador Crocker, I believe Iraq's problems will require a long-term effort," Petraeus testified before the House Armed Services and Foreign Affairs committees. "There are no easy answers or quick solutions. And although we both believe this effort can succeed, it will take time. . . . A premature drawdown of our forces would likely have devastating consequences."
Some Democrats challenged Petraeus, although respectfully and with few sparks. Rep. Tom Lantos (Calif.), the Foreign Affairs Committee chairman, complained that the general depicted the options as a choice between a nominal drawdown and a precipitous pullout without considering any middle ground. "Juxtaposing your token proposal with a hypothetical, rapid and irresponsible proposal does not do justice to this most important issue," Lantos said.
"What I recommended was a very substantial withdrawal," Petraeus countered.
Republicans, by contrast, seized on the plan as a political lifeboat after months of being forced to vote against measures repudiating Bush's policy. "Let the generals in the field dictate," said Rep. Patrick T. McHenry (N.C.). "We would support it," said Rep. Jack Kingston (Ga.), a member of the Appropriations subcommittee on defense.
House Democratic leaders met yesterday in the office of Speaker Nancy Pelosi (Calif.) to plot their next step. While House Democratic Caucus Chairman Rahm Emanuel (Ill.) called Petraeus's drawdown "positive," Democrats said the House is likely to vote on three bills that would go further -- mandating a withdrawal timetable for all combat forces or specified rest time for units between deployments, and giving Bush 60 days to send Congress a more detailed pullout plan.