BEIJING, Aug 14, 2010 (AFP) - A panda bear mother managed to give birth in southwest China on Friday despite having reached the venerable age of 17, equivalent to a human in her 60s, state news agency Xinhua reported.
Jini gave birth to a female cub weighing 125 grammes (4.4 ounces) after four hours in labour. Both mother and daughter are doing well, said the Wolong Giant Panda Protection and Research Centre in Sichuan province.
The mother had already defied expectations by delivering her first cub in 2007 at the age of 13-and-a-half. That pregnancy lasted 324 days, more than double the normal period of 120-150 days.
Pandas are notoriously reluctant breeders when held in captivity, but China has got nurturing their reproduction down to a fine art.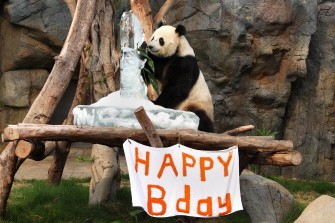 This handout photo taken and received on August 8, 2010 by Hong Kong theme park Ocean Park shows Le Le the panda with a block of ice carved into a panda shape to mark the animal's fifth birthday, during a promotional event in Hong Kong. AFP
The Wolong Giant Panda Protection and Research Centre has overseen 11 panda births this year, with over 10 more expected in the next one to two months.
"Pandas come into heat in the spring and give birth in autumn. This is the main reason for the panda 'baby boom'," said Dang Chunxiang, an expert with the Centre.