The global fight against terrorism will be more successful if the world community does more to resolve the Palestinian problem and stabilize Iraq, Malaysia's prime minister said.
Speaking to a London think tank, Abdullah Ahmad Badawi said the Israeli-Palestinian conflict is the "single most powerful factor" dividing Islam and the west, with the US-led conflict in Iraq a close second.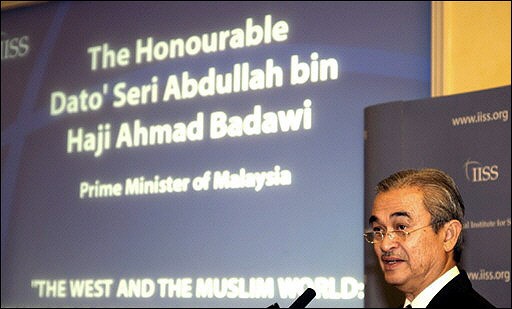 Malaysia's prime minister Abdullah Ahmad Badawi at the conference in London
"Much of the roots of the conflict in the Middle East will disappear" if the world is able to resolve the issue justly, in line with United Nations resolutions, Abdullah said at the International Institute of Strategic Studies.
"We must muster the political will and mobilize the necessary resources to enforce the 1967 border equally on both parties," he said in a speech entitled "The West and the Muslim World: Defusing the Defining Tension of Our Times."
Abdullah added: "Iraq is now the other great obstacle to better relations between the West and the Muslim world."
The Western countries would become more popular not just with Muslims but with their own populations if they "can revise their policies and rehabilitate the situation in Iraq," he said.
He also said that pan-Islamic Organization of the Islamic Conference (OIC) will play a more active role in the reconstruction of Iraq once peace has been restored.
"I'm convinced that the campaign against militancy and terrorism will be much more successful if we are able to make effective progress with regard to the issues of Palestine and Iraq," he said.
"Much of the resistance and militancy in the Middle East, as well as terrorism, will begin to subside," he said.
He said it was easier for the western and Muslim countries to fight terrorism, since it was a problem to both and "perhaps even more of a threat to some Muslim countries than it is to western countries or interests."
The former home affairs minister said terrorism had little impact on Muslim-Western ties when it is essentially driven by domestic factors, and both sides cooperated when it is linked to Al-Qaeda and international terrorism.
The campaign "transcends the divide between the west and Muslim countries," he said.
He warned that Muslim countries should tackle intolerant strains of Islam in their own societies by fighting poverty and ignorance, goals set by Malaysia's chairmanship of the OIC.
Abdullah, who arrived in London on Sunday for a "working visit," was due to leave later Tuesday, a foreign affairs official traveling with him said.