Once a proud grower of bananas, Abdullah Naji has been harvesting little more than dust in recent years. He blames his ill-fortune both on drought and on Israel's water policies.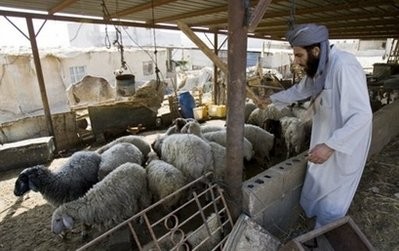 A Palestinian man is seen in his farm in the West Bank village of al-Auja, the heart of the West Bank's traditionally fertile Jordan Valley. (AFP Photo)

"Every day I pray for water," says Naji, 40.

But his village of Auja, in the heart of the West Bank's traditionally fertile Jordan Valley, is bone dry. Even the goats cannot find food amid the rocks and dust.

Naji gave up his banana plantation two years ago and converted to herding sheep.

"At least now he can complain to his animals," a neighbour jokes.

But even feeding the livestock has become a problem, as it is in much of the Middle East which is suffering its worst sustained drought in decades.

Auja villagers and their animals have survived in recent months thanks to fodder donated by the Oxfam aid group, which has also been delivering storage tanks and water to impoverished communities in the area.

"They, on the other hand," Naji says, pointing in the direction of a nearby Israeli settlement, "have all the water they want."

A canal runs alongside the village, but locals say it has not channelled any water since May. The spring that used to serve thousands of people in the area throughout the year has dried up.

Aid groups blame this on the construction of a new well that serves the 175 Israelis who make up the Yitav settlement.

Jewish settlements boast well-irrigated farms, orchards and vineyards, in sharp contrast to the dusty Palestinian villages and the surrounding rocky desert dotted with dirt-poor Bedouin encampments.

Amnesty International says in a report issued on Tuesday that discriminatory Israeli policies in the occupied Palestinian territories are the root cause of the striking disparity in access to water between Palestinians and Israelis.

"Israel allows the Palestinians access to only a fraction of the shared water resources, which lie mostly in the occupied West Bank, while the unlawful Israeli settlements there receive virtually unlimited supplies," says Amnesty researcher Donatela Robera.

A World Bank study earlier this year blamed the dire water shortages in part on Israeli restrictions, but also on bad Palestinian management.

Responding to the Amnesty report, Israel squarely blames the Palestinians.

"Israel uses less today than it did in 1967," when it occupied the Palestinian territories, even though its population has grown, government spokesman Mark Regev told AFP.

"Palestinians received billions of dollars in aid. Why wasn't it used for more efficient infrastructure?"

But Palestinians are not allowed to drill new wells or rehabilitate old ones without permits from the Israeli authorities, which are often impossible to obtain. Many rural communities rely on water tankers.

"This area is rich in water below the ground," says Auja resident Khader Zawahra, 37.

"But we can't get to it. Most of the water is at a depth of 500 metres (1,650 feet), but Israel only allows us to rehabilitate a well at 100 metres where there is little water."

His brother Suleiman Zawahra says he can remember the days, about 10 years ago, when life was still good.

"There was water all year around. There were a lot of fields and enough barley for the animals," he says, watching his three scrawny camels chew on straw.