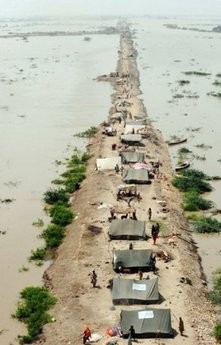 Flood-affected Pakistani villagers take shelter on higher ground surrounded by floodwaters in Sarjani village in Thatta district on August 28. AFP
THATTA, Pakistan (AFP) – Pakistani troops and workers were on a "war footing" Sunday as they battled to save the southern city of Thatta after most of the population of 300,000 fled advancing flood waters.
Torrential monsoon rains have triggered massive floods that have moved steadily from north to south over the past month, engulfing a fifth of the volatile country and affecting 17 million of its 167 million people.
Southern Sindh is the worst-affected province, with 19 of its 23 districts ravaged as flood waters swell the raging Indus river to 40 times its usual volume.
One million people have been displaced over the past few days and hundreds of thousands have already fled Thatta alone ahead of the approaching torrents as soldiers work frantically to repair breached levees on the river.
"The water is still two kilometres (about a mile) away from Thatta where the armed forces and the local administrative workers are working on war footing to save the city," senior city official Hadi Bakhsh Kalhoro told AFP on Sunday.
"The army brought a maximum of resources to try to fill up the breach. Almost all the people have left Thatta to safer places, all shops and schools are closed," he said.
Water levels were still rising in the district, but Kalhoro said: "We are hopeful that we can save at least Thatta city in two days."
An AFP reporter said the road linking Thatta with the town of Sujawal had been flooded and closed to all vehicular traffic, while Kalhoro said an electricity grid station near Sujawal had been flooded.
The military said its engineers had repaired an important embankment in the south and were trying to protect the highway linking Thatta with the main southern city of Karachi.
The Pakistani government has been overwhelmed by the magnitude of the disaster, the worst in the country's history, with millions in need of tents and food and medical aid.
But Sindh home minister Zulfiqar Mirza said people were reluctant to go to relief camps because they feared there would not be enough supplies.
"People are not going to relief camps because they're afraid of the lack of food and medicine there," he told reporters Saturday.
"In Karachi we've set up a camp for 40,000 people, but so far not a single (displaced person) has turned up there," he said.
Aid agencies are worried about the growing danger of malnutrition and water-borne disease, with children especially vulnerable.
Oxfam warned Sunday that reconstruction efforts must begin immediately to prevent the disaster from becoming a long-term catastrophe.
The British-based international charity said billions of dollars would be needed to start rebuilding schools, roads, bridges and hospitals immediately, adding that the aid effort was struggling to respond.
At the massive Kotri barrage embankment which protects the southern city of Hyderabad, engineer Qadir Palijo said Sunday that water levels were falling.
"The water is slowly receding in Kotri but still increasing down in the south (towards Thatta). The process of recession of the water is slow but we hope the pace will increase in a couple of days," he told AFP.
Pakistan's worst humanitarian disaster has left eight million dependent on aid for their survival and has washed away huge swathes of the rich farmland on which the country's struggling economy depends.
The government has confirmed 1,600 people dead and 2,366 injured, but officials warn that millions are at risk from food shortages and disease.
The United Nations has warned that 800,000 people in desperate need of aid had been cut off by the deluge across the country, and has appealed for more helicopters to deliver supplies to those reachable only by air.
A fundraising campaign in the United Arab Emirates has raised more than 20 million dollars for the flood victims, the official WAM news reported.
A senior US official said last week that countries worldwide had pledged a total of more than 700 million dollars (554 million euros) towards flood relief in Pakistan.
The UN Office for the Coordination of Humanitarian Affairs in Islamabad said Sunday some people had been forced to move repeatedly as the floods advanced.
"So many of the displaced have reportedly been displaced twice or more," said spokesman Maurizio Giuliano.