SOOMRA PANHWARI, Pakistan, Aug 7, 2010 (AFP) - Pakistan raced to evacuate families threatened with fresh floods on Saturday as heavy rains worsened the disaster in its second week, with up to 15 million people already affected.
Authorities in southern Sindh province have warned that a major deluge could hit impoverished river communities in the fertile basin, where they said up to three million people had already been affected and one million evacuated.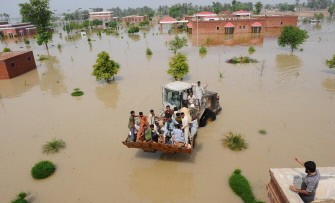 Pakistani soldiers use a loader to rescue Lal Pir Thermal Power employees during flooding in Lal Pir on August 7, 2010. AFP
Torrential rains continued to hammer northwestern Khyber Pakhtunkhwa province and helicopter services ferrying aid to some areas had to be suspended until the bad weather subsided.
Those uprooted from their homes in Sindh have been moved to temporary relief shelters in government buildings, schools and tents, but many families living in low-lying areas along the swollen Indus river were resisting evacuation.
"There are some areas where people are still reluctant to leave their homes and belongings. We are compelling them to evacuate because there is massive danger to their lives," said irrigation minister Jam Saifullah Dharejo.
"The water flow in some places along the river is exceptionally high and intermittent rains continue," he added.
Prime Minister Yousuf Raza Gilani has appealed for immediate international help to cope with the country's worst ever floods, which have already devastated provinces in the northwest and centre.
Countries including the US, Britain and China have pledged tens of millions of dollars in aid for victims of the nearly two-week-old disaster.
Floods across the largely impoverished, insurgency-hit country have swept away entire villages and killed at least 1,600 people, according to UN estimates.
Those marooned in Soomra Panhwari in southern Sindh faced a shortage of food and drinking water and authorities said their priority was shifting women and children to safety.
Zaibun Nisa, 40, said she had been forced to leave her husband to whisk her three children away from the floods after all the family's cattle were lost.
"All our belongings have been swept away, our cattle have been lost. My daughter was to be married once we had the money from our sugarcane harvest but the crop is destroyed. Now we are battling for our survival," she said.
The meteorological office has warned that at least two more days of rain are expected in Sindh, where a red alert is in place because of the "imminent" and "extreme" flood threat.
In Khyber Pakhtunkhwa, head of flood relief operations Major General Ghayoor Mehmood, has said some 1,400 people have been killed, with 213 still missing.
Flooding has spread to Indian-held Kashmir, where at least 115 people have died, while some parts of the Punjab are under six feet (two metres) of water, affecting nearly two million people, a senior crisis management official said.
"The scale of the needs is absolutely daunting," Melissa Fleming, a spokeswoman for the office of the UN High Commissioner for Refugees, said Friday.
More than 252,000 homes are thought to have been damaged or destroyed across Pakistan and 1.38 million acres (558,000 hectares) of crop land flooded, and it could take weeks before electricity is fully restored.
The flooding has threatened electricity generation plants, forcing units to shut down in a country already suffering a crippling energy crisis.
In Punjab a senior government official said water had entered an oil refinery unit, oil depot and a power generation plant, with workers being forced to leave their homes in the area.
Survivors have lashed out at authorities for failing to come to their rescue and provide better relief, piling pressure on a cash-strapped administration straining to contain Taliban violence and an economic crisis.
Particular scorn has been heaped on the unpopular President Asif Ali Zardari for pressing ahead with a visit to Europe at the height of the disaster.
The United States has pledged a total of 35 million dollars in aid, with military helicopter relief missions travelling into the worst-hit regions.
Australia on Saturday doubled its aid pledge to 10 million dollars (9.2 million US).
In neighbouring Afghanistan, authorities asked residents of several villages along the Kabul river to leave their homes as smaller floods caused minor damage to homes, an official from the national disaster authority said.