Pakistan ordered nearly half a million people to evacuate towns on Thursday as rising floods threaten further havoc in a country straining to cope after its worst humanitarian disaster.
Torrential monsoon rains triggered massive floods affecting a fifth of the country -- roughly the size of England -- in volatile Pakistan, where a US official warned that foreign aid workers are at risk from Taliban attacks.
Pakistan's worst humanitarian catastrophe has affected more than 17 million people, while officials warn that millions are at risk from water-borne diseases and food shortages.
Around 1,500 people have been confirmed dead by Pakistani authorities, but UN officials have suggested the death toll could prove to be higher.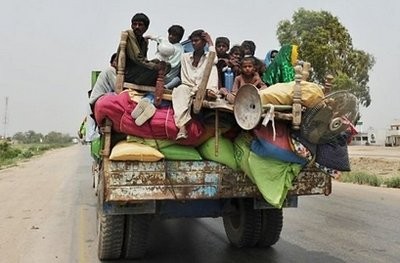 Pakistani flood-affected villagers travel with their belongings as they evacuate Matyari, about 35 kilometers from Hyderabad.
In the southern province of Sindh, where the floods have washed away huge swathes of rich farmland on which Pakistan's spluttering economy depends, a senior administration official warned that fresh floods threaten three towns.
"We have warned people of Sujawal, Mirpur Bathoro and Daro towns to leave for safer places in view of possible flooding there," Hadi Bakhsh Kalhoro, the senior official in Thatta district, told AFP.
"Sujawal, Mirpur Bathoro and Daro towns have an approximate population of 400,000," he said.
Kalhoro said the warning was issued after floods caused a breach in one of the embankments at Surjani village in Thatta, close to the Indus river.
The United Nations warned that 800,000 people in desperate need of aid had been cut off by the deluge across the country and appealed for more helicopters to deliver supplies to those people reachable only by air.
Authorities were also battling Thursday to save the city of Shahdadkot from surging waters after most of its 100,000 residents had been moved to safety.
Rescuers safely evacuated 90 percent of people from the nearby flooded town of Qubo Saeed Khan. However, efforts were being made to rescue thousands of others stranded in at least 25 villages surrounding the town.
"We are using helicopters and naval boats to evacuate these people," local administration official, Yaseen Shar, told AFP.
Tens of thousands of people have been evacuated from flood-threatened areas close to Hyderabad, on the lower reaches of the Indus, where more than 40 nearby villages have been swept away.
Barkaat Rizvi, spokesman for the Hyderabad district administration, has said residents are still leaving vulnerable areas, adding: "Danger is still there."
In Washington, which has put Pakistan on the front line of efforts to beat back the Taliban in Afghanistan, a US official said Pakistani Taliban were planning to attack foreign aid workers engaged in the relief effort.
"According to information available to the US government, Tehreek-e-Taliban plans to conduct attacks against foreigners participating in the ongoing flood relief operations in Pakistan," the official told AFP.
"Tehreek-e-Taliban also may be making plans to attack federal and provincial ministers in Islamabad," the official warned.
The Pakistani Taliban have previously denounced all foreign aid for victims of the country's catastrophic flooding.
Tehreek-e-Taliban faction is a key architect of extremist violence that has killed more than 3,580 people across Pakistan in three years.
However, US officials say they have encountered no hostilities in flying aid to stricken parts of Pakistan, where anti-Americanism runs deep.
On the ground, the International Organization for Migration (IOM) says 4.5 million people remain in urgent need of shelter.
Officials warned yet more Pakistanis could be affected in the fertile southern plains of Sindh province, which face the risk of further flooding in the next few days as the major Indus river threatens to burst its banks.
In Kotri, a western suburb of Hyderabad, the river had swollen from its normal width of 200 to 300 metres (yards) to almost 3.5 kilometres (two miles), according to a local army spokesman.
But Qadir Palejo, a senior engineer at Kotri Barrage, told AFP that the water level was steady and "We are expecting it to start receding from tonight."
Pakistan officials are in talks with the International Monetary Fund in Washington amid reports Islamabad is asking the fund to ease the terms of a loan worth nearly 11 billion dollars.