THATTA, Pakistan (AFP) – Pakistan ordered the evacuation of 300,000 people from a southern city after waters breached its defences as the United Nations warned Friday the country's worst ever humanitarian crisis was deepening.
For nearly a month, torrential monsoon rain has triggered massive floods steadily moving from north to south, affecting a fifth of the volatile country -- an area roughly the size of England -- and 17 million people.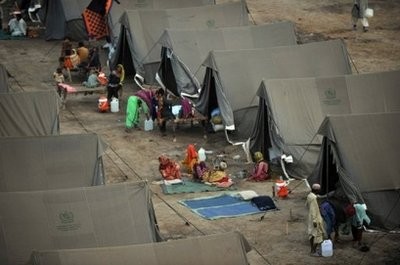 Flood-affected families are seen inside a relief camp in Sukkar on August 26, 2010. AFP
"We ordered people of Thatta city on Thursday night to move to safer places after floods breached an embankment at Faqir Jogoth village," top administration official Manzoor Sheikh told AFP.
At least 70 percent of Thatta's population of approximately 300,000 people had so far moved to safer areas and the deluge is fast heading towards the city, he said.
"We hope that the (army) engineers will be able to repair the breach or otherwise floodwaters will inundate Thatta city," Sheikh said.
He said the surrounding towns of Sujawal, Mirpur Bathoro and Darro -- which had a combined population of 400,000 -- had already been evacuated.
People were fleeing Thatta, where streets were deserted and shops shut, to nearby Makli and Karachi with their livestock and luggage as engineers tried to repair the 20-foot wide breach, an AFP reporter on the scene said.
In Makli, which is a hilly area, devastated people were seen sitting out in the open with their children and cattle.
"It is the worst tragedy... We are leaving our homes in miserable condition," said Abdul Karim Palejo, a government school teacher in Thatta.
"I leave behind a house, which is more than a century old... My heart bleeds when I think of this house inundating in floodwaters," he added.
The catastrophe is Pakistan's worst humanitarian disaster and has left eight million dependent on aid for their survival.
The Pakistani government has confirmed 1,600 people dead and 2,366 wounded, but officials warn that millions are at risk from disease and food shortages.
One UN spokesman estimated that in the last 48 hours in the southern province of Sindh alone, one million people were displaced.
Flooding has washed away huge swathes of the rich farmland on which Pakistan's struggling economy depends.
"We can say in Sindh, it is getting from bad to worse," said Maurizio Giuliano, spokesman for the UN Office for the Coordination of Humanitarian Affairs (OCHA) in Islamabad.
"We are delivering faster and faster but the floods seem determined to outrun our response."
The United Nations has warned that 800,000 people in desperate need of aid had been cut off by the deluge across the country and appealed for more helicopters to deliver supplies to those people reachable only by air.
On the ground, the International Organization for Migration (IOM) says 4.5 million people remain in urgent need of shelter.
"There are serious concerns about rising malnutrition among children in the affected areas, although estimates are not available now because this is a long-term condition that takes time to develop," said Giuliano.
"It is estimated that before the floods, 72,000 children aged under five in the affected areas already suffered from severe acute malnutrition -- which is deadly", he said.
"This is now likely to be on the rise, due to a vicious circle between disease and malnutirition".
He said that up to 20 percent of children in the affected areas suffer from diarrhoeic diseases causing dehydration and enhanced risk of malnutrition.
"Over 650,000 children in affected areas have been reached with high-energy food supplements and more assistance is on the way."
In Washington, which has put Pakistan on the front line of efforts to beat back the Taliban in Afghanistan, a US official said Pakistani Taliban were planning to attack foreign aid workers engaged in the relief effort.
"Tehreek-e-Taliban also may be making plans to attack federal and provincial ministers in Islamabad," the official told AFP.