PARIS, Aug 3, 2010 (AFP) - Pakistan's President Asif Ali Zardari is set to address David Cameron's "uncalled for" criticism of Islamabad's stance on terrorism during a visit to Britain which kicks off Tuesday, officials said.
After wrapping up a two-day visit to France, Zardari heads to London and in talks with the British prime minister this week will raise his claims that some elements in Pakistan back the Taliban, said a spokesman for the president.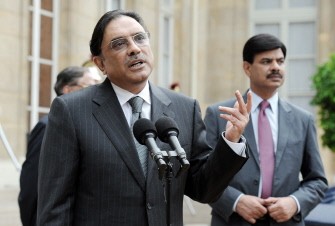 Pakistani President Asif Ali Zardari delivers a speech after a meeting with France's President Nicolas Sarkozy on August 2, 2010 at the Elysee Palace in Paris. AFP PHOTO
The spokesman said that "Cameron's uncalled for remarks and the fact that these were made in India had disappointed the people of Pakistan," according to a statement released Monday after Zardari held talks with French President Nicolas Sarkozy in Paris.
Zardari's office said he told Sarkozy it was "unfortunate if some people continued to express doubts and misgivings about our will and determination to fight the militants to the finish," according to the statement.
Relations between London and Islamabad soured last week when Cameron said Pakistan must not "look both ways" in secretly promoting violent extremism while pretending to seek regional stability.
Britain is the second largest troop contributor to a NATO force in Afghanistan, which faces daily attacks from Taliban fighters who intelligence analysts say draw operational support and funding from Pakistan.
The Pakistani leader is due to meet the British prime minister on Friday at his country retreat outside London, despite calls from some in Pakistan for him to cancel the visit in protest at Cameron's criticism.
Zardari's office rejected this idea, arguing that the trip gives Pakistan a chance to make its case, according to Monday's statement, which cited presidential spokesman Farhatullah Babar.
Following Cameron's remarks, it was now "all the more important that the president's visit to the UK went ahead as planned to raise this and other issues with the British prime minister," said the statement.
Despite the storm over Cameron's accusations -- which were made during a trade visit to Pakistan's arch-foe India -- London has refused to back down. A spokesman for the prime minister insisted earlier Monday he stood by his remarks but made it clear Cameron had been referring to elements within the Pakistani state and not to the policies of Zardari's government.
The terror row threatened to deepen Monday, when Pakistani Foreign Minister Shah Mehmood Qureshi hauled in Britain's high commissioner -- the Commonwealth equivalent of an ambassador -- for a dressing-down over the Indian speech.
Criticising Pakistan in Bangalore last Wednesday, Cameron said: "We cannot tolerate in any sense the idea that this country is allowed to look both ways and is able, in any way, to promote the export of terror."
In contrast to the tensions surrounding his forthcoming visit to Britain, Zardari's time in France was shaping up to be free of controversy.
After talks with Sarkozy at the Elysee Palace on Monday, the Pakistani leader vaunted Islamabad's relationship with France.
"France feels that Pakistan is a responsible partner with them in the world," Zardari told reporters, adding that Sarkozy had said he would visit Pakistan later in the year.
Before heading to Britain late Tuesday, Zardari was to meet French Foreign Minister Bernard Kouchner for a working lunch expected to address regional issues and European humanitarian aid in the wake of this week's deadly Pakistani floods.
After his official schedule, Zardari was to make a brief private visit to Normandy in northern France where his family owns a holiday home: the 16th century Chateau de la Reine Blanche in the hamlet of Mesnil-Lieubray.
Zardari is not an all-powerful figure in Pakistan, where the military still retains massive political influence and Prime Minister Yousuf Raza Gilani has more day-to-day authority over government affairs.
Outside Pakistan, Zardari is best known as the widower of assassinated former prime minister Benazir Bhutto and by his nickname "Mr 10 Percent", a reference to the corruption allegations that have dogged his career.