BANGKOK, July 4, 2011 (AFP) - Outgoing Thai premier Abhisit Vejjajiva resigned as leader of his party on Monday after heavily losing an election to the opposition allied to fugitive former leader Thaksin Shinawatra.
"As the Democrat Party leader during the election, we won fewer seats than in the previous election, so I think as a good leader I should take responsibility by resigning," he told a press conference in Bangkok.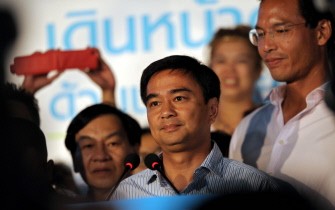 AFP - Abhisit Vejjajiva pauses before addressing supporters and conceding defeat in Thailand's general election at his party headquarters in Bangkok on July 3, 2011.
"The Democrat Party will hold a general meeting within 90 days to elect a new leader," he added.
The Democrats won just 159 seats out of 500, against the opposition Puea Thai's 265 seats, the Election Commission said.
The results pave the way for Thaksin's sister Yingluck Shinawatra to become the first Thai female premier.
Abhisit, who took office in a 2008 parliamentary vote after a court threw out the previous administration, conceded late Sunday, saying: "The outcome is clear -- Puea Thai has won the election and the Democrats are defeated."
His party, with traditional support in Bangkok and the south, has not won a general election in nearly two decades.