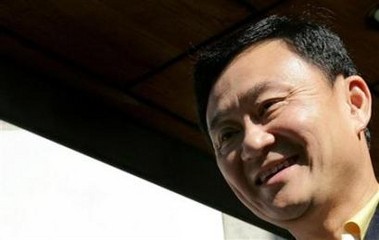 Thaksin Shinawatra leaves an apartment in central London, September 21, 2006
Thailand's ousted prime minister Thaksin Shinawatra has left his home in London and gone to Beijing, his legal adviser said Thursday, amid small protests against the coup in Bangkok.
"Thaksin is in Beijing to meet with friends. He just arrived a few hours ago," Noppadol Pattama told reporters.
His return to Asia came amid swirling rumors that negotiations were underway to secure permission for his return.
Military-installed Prime Minister Surayud Chulanont was in China earlier this week for a regional summit, but Noppadol said Thaksin had arrived when the new premier was already back in Thailand.
Thaksin was in New York when the coup happened on September 19, and had since been living in self-imposed exile in London, where he has a home.
Noppadol insisted that Thaksin's "trip to China doesn't imply that he will return to Thailand soon".
"Thaksin... has no plan to return to Thailand in the near future," he said.
"Once the country is more reconciled or back to normal, Thaksin will decide whether to come back to Thailand," he added.
The Chinese foreign ministry said neither Thaksin nor the Thai government had informed the government about the trip.
"The visit is a private one," foreign ministry spokesman Liu Jianchao said.
The leader of the coup that ousted Thaksin, General Sonthi Boonyaratglin, said that if Thaksin did want to return to Thailand, he would need permission from Surayud.