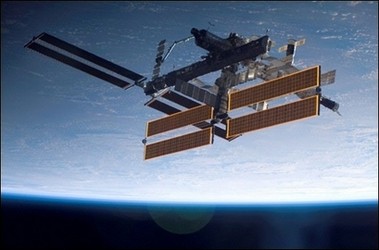 The International Space Station
An operation to elevate the orbit of the International Space Station so that it can dock with the US space shuttle Discovery next month ended in failure Thursday, Russian news agencies reported.
A new attempt will be made on December 2, five days ahead of the Discovery's scheduled launch, said a spokesman for the Russian space agency, Roscomos.
The American shuttle is preparing to transport a new 11-million-dollar truss segment for the ISS, to be installed during a spacewalk.
"The engines of the Progress spacecraft failed to operate for the required duration. As a result, the ISS orbit was raised by 1.5 kilometers (one mile) instead of seven kilometers (4.5 miles)," an official at Russia's mission control told Interfax.
It is not yet clear what caused the engines to fail, the spokesman said.
The operation to raise the station's orbit was designed to allow Discovery to dock with the station following its planned launch on December 7.
The last operation to raise the station's orbit took place at the end of August to counteract the fact that the station's orbit drops by 150-200 meters per day, ITAR-TASS reported.
Two other spacewalks are planned to rewire the space station, switching the temporary electricity system to a permanent one.