The Olympic flame arrived in Beijing on Monday ahead of the official start of the relay, with security tight at the Chinese capital's airport.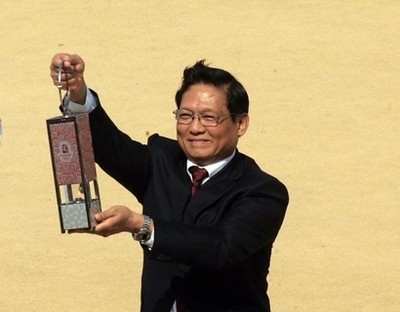 Chinese Olympic Committee President Liu Qi holds the Olympic flame in Greece on March 30. A plane carrying the torch arrived in Beijing on Monday. (AFP/Louisa Gouliamaki)
A specially chartered Air China plane from Greece touched down shortly before 9:00 am (0100 GMT), with the event broadcast on national television with a slight delay.
The chief of China's Olympic organising committee, Liu Qi, walked off the plane carrying the flame and on to red carpet laid out on the tarmac.
He was greeted by Zhou Yongkang, a member of China's Communist Party politburo who is in charge of the nation's security.
The flame will make its way to Tiananmen Square, the political heart of Beijing, for a welcoming ceremony later on Monday morning.
The torch relay officially starts on Tuesday in Beijing when the sacred flame is scheduled to depart for Almaty.
The Kazakh capital is the first stop on an odyssey through 19 countries during April that is followed by an epic three-month tour around China.
Reporters at the Beijing airport on Monday reported extremely tight and highly visible security.
Greece handed over the Olympic torch to the organisers of the Beijing Games on Sunday.