A series of cooperation agreements will be signed after Mr. Hu Jintao holds talks with King Abdullah, who paid a landmark visit to China in January, a Chinese embassy official said.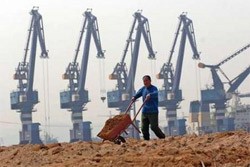 China, the world's fastest growing economy, needs more energy to feed its growing economy (Reuters Photo)
The Chinese leader, who flew in from the United States, is to meet Saudi businessmen and call on petrochemical giant Saudi Basic Industries Corporation (SABIC) before flying to the oil-rich Eastern Province on Sunday to meet officials of state oil conglomerate Saudi Aramco in Dhahran.
SABIC's chief executive officer Mohammed al-Mady was quoted on Thursday as saying the company was awaiting Beijing's approval for a joint venture to build a 5.3-billion-dollar naphtha plant in China.
China's commerce ministry said the trade volume between the two countries hit 2.7 billion dollars during the first two months of 2006, a 43 percent rise on the same period last year.
Saudi exports to Beijing were worth 2.21 billion dollars, according to the Chinese Xinhua news agency.
The kingdom exported some 22.18 million tons of oil to China last year, becoming its biggest crude supplier.
King Abdullah oversaw the signing of five economic deals, including an energy agreement, during his trip to China, which came as part of an Asian tour underlining Riyadh's quest to forge partnerships with Asia.
While Beijing needs energy to feed its growing economy, Riyadh, which has traditionally had strong Western ties, is seeking to secure more markets for its oil and broaden its sources of technology imports as it opens up its economy following accession to the World Trade Organization, analysts say.
China's Sinopec is drilling for gas in the Saudi desert and building a refinery with Aramco in the Chinese province of Fujian. Another joint refinery venture is planned in Qingdao city.
The Chinese leader was also due to meet Abdulrahman al-Attiyah, secretary general of the six-nation Gulf Cooperation Council with which China is negotiating a free trade agreement.
On Sunday, Mr. Hu Jintao is to give a speech at the Shura Council, becoming only the second foreign leader to do so after French President Jacques Chirac, who addressed the appointed advisory body in March.
Mr. Hu stressed the need to seek a "peaceful resolution" of the Iranian nuclear crisis during talks with US President George W. Bush, maintaining Beijing's distance from Washington's hard line.
It is a position similar to that of Saudi Arabia, which has advocated a diplomatic solution to the dispute.
Hu is due to leave for Morocco on Monday and continue his tour in Africa with stops in Nigeria and Kenya.

Source: AFP