Oil prices rose to near $82 a barrel Friday in Asia, just below a one-year high, as signs the global economic recovery is gathering pace fueled investor optimism.
Benchmark crude for December delivery rose 51 cents to $81.70 a barrel at midday Singapore time in electronic trading on the New York Mercantile Exchange. The contract rose 18 cents to settle at $81.19 on Thursday.
Investors have taken heart from evidence that recovery from the global recession is gathering pace. China said Thursday that its economy grew 8.9 percent in the third quarter, building on recent improvements in industrial production, retail sales and commodity imports.
"So far the path of recovery has surprised to the upside," Barclays Capital said in a report. "The groundwork for a sustainable move into higher price ranges has been laid."
Crude traders are also eyeing gains on global stock markets, which tend to reflect overall investor sentiment. The Dow Jones industrial average jumped 1.3 percent on Thursday and most Asian indexes rose in early trading Friday.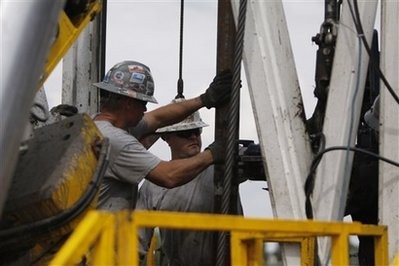 In this Aug. 25, 2009 file photo, crew members with Anadarko Petroleum Corp. work on a drilling platform on a farm near Mead, Cololado, USA
Prices soared to $82 a barrel earlier this week, the highest since October 2008, from $32 in December.
In other Nymex trading, heating oil rose 0.61 cent to $2.10 a gallon. Gasoline for November delivery gained 1.08 cents to $2.06 a gallon. Natural gas for November delivery jumped 5.6 cents to $5.00 per 1,000 cubic feet.
In London, Brent crude for December delivery rose 57 cents to $80.08 on the ICE Futures exchange.