SINGAPORE, Feb 22, 2011 (AFP) - Brent prices broke past $107 in Asian trade Tuesday as violence in Libya and Bahrain threatened to destabilise the key oil-producing Middle East and North African region, analysts said.
Brent North Sea crude for delivery in April gained $1.53 to $107.27 per barrel in the afternoon, surpassing two-year highs reached on Monday.
New York's main contract, light sweet crude for March delivery, surged $7.20 to $93.40 per barrel on its last trading day.
"Rising violence in Libya and Bahrain are providing support to oil prices, with geopolitics a key focus of the market currently," said Barclays Capital in a report.
There are worries that spreading unrest in the Middle East and North Africa would threaten global crude supplies as it is home to major oil-producing nations including Libya.
OPEC member Libya is Africa's fourth largest crude producer after Nigeria, Algeria and Angola, boasting production of 1.8 million barrels per day and estimated reserves of 42 billion barrels.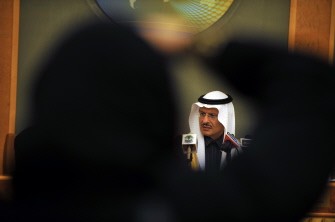 Assistant to the Saudi Minister of Petroleum Prince Abdulaziz Salman bin Abdulaziz Al-Saud speaks during a press conference at King Abdulaziz International conference center, in Riyadh on February 21, 2011, on the eve of the International Energy Forum, which groups the world's top oil producers and consumers, and which will meet in Saudi Arabia as economic recovery drives prices back to levels last seen before the 2008 global financial crisis. AFP
Libya exports most of its oil to European countries, including Italy, Germany, Spain and France.
Gunfire rattled the Libyan capital Tripoli Monday as protesters attacked police stations as well as offices of the state broadcaster and set government buildings ablaze. There were also claims of a "massacre" by government gunmen "firing indiscriminately" in Tajura district.