NEW YORK, Nov 25, 2011 (AFP) - Occupy Wall Street protesters celebrated Thanksgiving by gathering in a disputed New York square where their movement sprang up two months ago and feasting on turkey with all the trimmings.
Meeting Thursday in Zuccotti Park, where on November 15 police forcibly evicted hundreds of protesters camped there, several hundred activists of all ages shared donated platters of turkey, cranberry sauce, pumpkin pie, and other staples of the national holiday meal.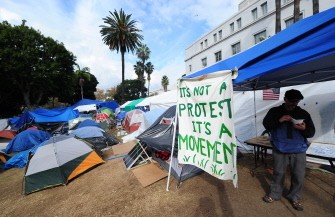 AFP - A man has breakfast beside a sign at the Occupy LA site in front of City Hall in downtown Los Angeles on November 24, 2011.
The atmosphere was a far cry from the tension during the night of the camp clear-out by riot police or the violent scuffles that marred subsequent demonstrations around the nearby stock exchange.
One group sat around a guitarist, singing Bob Dylan songs. Another clustered listened to a cellist play Bach, while a third group took in the upbeat sounds of a traditional fiddle and banjo duo.
More than 3,000 meals were supplied to hungry activists and passers-by sharing in the unusual version of the US ritual, which always takes place on the fourth Thursday of November. It recalls the gratitude of the earliest European settlers in America for their survival.
Occupy Wall Street organizer Bill Dobbs said he was thankful that the movement, which aims to attack the power of the nation's big banks and to protest against social inequity, had come through its own birthpangs.
"This is early in creating a resistance movement in the biggest rich country in the world," Dobbs said.
Kathleen O'Hara, an author and advocate for crime victims, said she'd come from Philadelphia to experience the birthplace of a protest that has since spread to cities across the country.
"I didn't want to do Thanksgiving in the traditional way," O'Hara, 52, said. "It's really very intriguing. People are getting together for something they believe in."
The festive mood broke briefly when one of the former camp's exuberant drummers -- a source of annoyance to some local residents -- launched into a performance.
Immediately, police who had been standing at the margins of the gathering intervened, some leaping over the fence that has been erected around the park. Occupy Wall Street members also rushed to the scene and for a tense minute or two the standoff seemed likely to end in scuffles and arrests.
"We want our drums!" the crowd chanted.
However, the Thanksgiving spirit prevailed and a negotiated solution was found: the drummer would respect the local community's wish for a quiet day and resume his drumming on Friday.
"Happy Thanksgiving!" the crowd shouted at the departing police.
Occupy Wall Street started in September as a ragtag march on New York's Financial District to protest against corporate influence in politics and the government bailout of troubled banks while swaths of the population fear for their economic future.
It quickly mushroomed into a national movement centered on tent camps in Zuccotti Park, Washington, DC, Oakland, California and other cities. Although authorities have recently clamped down on many of the tent camps, the movement appears to have survived thanks to a savvy Internet campaign and creatively organized events such as the Thanksgiving meal.
Even one of the private security guards hired at Zuccotti Park to ensure that protesters do not try to reestablish their tent camp said he admired Occupy Wall Street.
"I didn't know anything about them and I've learned a lot. I'm also poor," the guard, who asked not to be identified, said. "In some ways, thanks to them I got my job here, too."
Meanwhile, in midtown Manhatten an estimated three million people braved cold temperatures to see the traditional Macy's Thanksgiving Day Parade.
The year's balloons drifting along the parade route included Buzz Lightyear, Clumsy Smurf, Ronald McDonald, Diary of a Wimpy Kid, the Pillsbury Doughboy and the Aflac Duck Balloonicle.