US President Barack Obama vowed Monday that despite criticism that he is dithering, he will not rush a fateful decision on whether to send tens of thousands more troops to Afghanistan.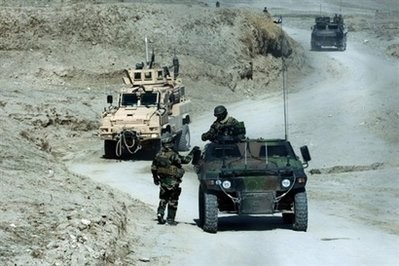 US soldiers patrol a western area of Afghanistan. (AFP photo)

Obama promised US troops a clear mission before pitching them into the worsening battle, after conducting the latest meeting of his war council, which is mounting an exhaustive review of Afghan and Pakistan strategy.

He spoke on another grim day for US troops in Afghanistan, after 14 Americans died in two helicopter crashes, underscoring the growing toll of the increasingly unpopular eight-year war.

"I will never hesitate to use force to protect the American people or our vital interests, I also promise you this -- and this is very important as we consider our next steps in Afghanistan," Obama told military personnel in Florida.

"I will never rush the solemn decision of sending you into harm's way.

"I won't risk your lives unless it is absolutely necessary, and if it is necessary, we will back you up.

"Because you deserve the strategy, the clear mission, the defined goals and the equipment and support you need to get the job done."

Obama critics, some senior Republicans among them, have complained Obama's weeks-long security review is dragging on too long. Former vice president Dick Cheney last week accused the president of "dithering."

The president flew to Florida from Washington, after meeting his top national security advisors in the White House Situation Room.

The talks ran longer than expected, White House spokesman Robert Gibbs said, but added there was no change to the expectation that Obama would announce the eagerly awaited decision "in the coming weeks."

Obama said last week that he might make up his mind on war commander General Stanley McChrystal's request for 40,000 more troops before the Afghan run-off election on November 7, but might not announce the decision.

Political pressure over the war is mounting on Obama, following revelations of corruption in the Afghan government, a quickening insurgency and a spike in deaths of US and NATO troops.

In his remarks at a naval air station in Jacksonville, Florida, Obama paid tribute to 14 American service personnel killed in two helicopter crashes in Afghanistan, saying they died to thwart Al-Qaeda's hopes of a terror haven.

"Our prayers are with these service members, their civilian colleagues and the families who loved them," said Obama.

"While no words can ease the ache in their hearts today, may they find some comfort in knowing this: like all those who give their lives in service to America, they were doing their duty and they were doing this nation proud.

"They were willing to risk their lives, in this case, to prevent Afghanistan from once again becoming a safe haven for Al-Qaeda and its extremist allies. And today, they gave their lives ... to protect ours."

As expectations mounted that Obama is reaching a critical point in his decision making on the war, Senator John Kerry, who played a key role in brokering the run-off election, warned of the risks of McChrystal's request.

"He understands the necessity of conducting a smart counterinsurgency in a limited geographic area. But I believe his current plan reaches too far, too fast," said Kerry, who met Obama at the White House last week.

"We do not yet have the critical guarantees of governance and of development capacity, the other two legs of counterinsurgency," Kerry told the Council on Foreign Relations in Washington.

Obama's war council, part of an exhaustive review of US war strategy in Afghanistan and Pakistan, was scheduled to include Secretary of State Hillary Clinton, Secretary of Defense Robert Gates and Vice President Joe Biden, via video link on Monday.

The Washington Post earlier reported that the war review would consider the results of a top secret Pentagon war game on two possible options for future Afghan strategy.

The exercise examined the likely outcome of sending 44,000 more troops to conduct a full-scale counterinsurgency effort aimed at building a stable Afghan government that can control most of the country, the report said.

But it also examined adding 10,000 to 15,000 more soldiers and Marines as part of an approach dubbed "counterterrorism plus," the paper said.