US President Barack Obama visited the residence of the Norwegian ambassador on Tuesday to personally offer his condolences after 76 people died in twin attacks.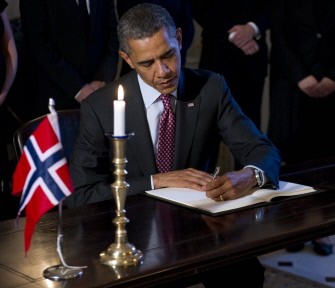 US President Barack Obama signs a book of condolences at the Norwegian Ambassador's residence in Washington, DC, July 26, 2011
An AFP photographer said Obama's motorcade went to the ambassador's residence in Washington where he was to sign a condolence registry and speak about the killings that have traumatized the Scandinavian nation.
On Saturday, Obama condemned the "senseless" massacre in Norway as he presented his condolences to Prime Minister Jens Stoltenberg.
The White House said Obama called Stoltenberg to "express personally and on behalf of the American people his deepest condolences" over Friday's killings.