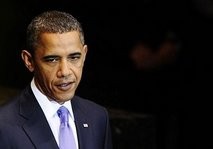 US President Barack Obama (AFP file)
NEW YORK, Sept 24, 2010 (AFP) - US President Barack Obama will seek to lock in deeper ties with Southeast Asia on Friday, as simmering regional maritime disputes reflect mounting security questions posed by a rising China.
Obama will host the second US-Association of Southeast Asian Nations (ASEAN) summit, on the sidelines of the UN General Assembly in New York, a day after announcing he will make a twice-postponed visit to Indonesia in November.
The president has made engaging Southeast Asia a cornerstone of his foreign policy, and during a trip to Asia last year, dubbed himself America's first "Pacific President."
"Since the beginning of the administration, we've tried to rebuild relations with ASEAN," said Jeff Bader, Obama's senior director for Asia on the National Security Council.
"We felt that the region had not gotten the attention that it needed and deserved in much of the previous decade."
Friday's two-hour meeting is expected to discuss trade and investment, evolving East Asian security and economic architectures and the longstanding and so far unsuccessful US pressure for political change in Myanmar.
The talks take place amid rising tensions between Japan and China over a territorial dispute in the East China Sea, and after Beijing warned Obama not to interfere in its row with southeast Asian states in the South China Sea, which Vietnam calls the East Sea.
China asserts complete sovereignty over the potentially resource-rich Spratly and Paracel islands in this sea.
However, ASEAN members the Philippines, Vietnam, Malaysia, Brunei, plus non-member Taiwan have competing claims.
Bader said that Obama briefly discussed the South China Sea issue with Chinese Premier Wen Jiabao when they met in New York on the sidelines of the United Nations General Assembly on Thursday.
"I am confident that the issue will be discussed by the president and the ASEAN leaders when they meet tomorrow -- that the president will discuss it, and a number of the ASEAN leaders will discuss it," he said.
Some observers expect the meeting to issue a statement affirming freedom of navigation in the South China Sea on Friday.
Anticipating the New York meeting, China warned the United States on Tuesday to keep out of the dispute.
"We are resolutely opposed to countries not involved interfering... and we oppose the internationalisation of the South China dispute because it will only make the issue more complicated," foreign ministry spokeswoman Jiang Yu said.
But Bader noted that in Hanoi in July, US Secretary of State Hillary Clinton said resolving the South China Sea dispute was "pivotal" to regional stability and called for multilateral talks -- a position opposed by Beijing.
Friday's meeting is also likely to touch, at the request of the US, on developments in Myanmar, after Washington admitted it was disappointed with its efforts to use dialogue to promote democratic change in the military-ruled state.
"I am sure the president will address the issue of Burma," said Bader, using Myanmar's former name.
The military regime there is set to go ahead with November 7 elections, despite wide concern over their credibility.
Earlier, Obama announced that he would visit Indonesia in November, after he was this year forced to cancel two previous attempts to make the trip to the world's largest Muslim-majority nation.
In a homecoming of sorts, he will visit a country where he spent several years as a boy with his late mother.
The visit will come after going to India and before heading to South Korea and Japan.
Friday's New York meeting will follow the inaugural summit that Obama held last year in Singapore with his counterparts from 10-member ASEAN.
Next month, in a further deepening of US ties with the region, Clinton will attend an East Asia Security summit in Hanoi.
Obama is expected to attend the forum from 2011 onwards.
ASEAN includes Brunei, Cambodia, Indonesia, Laos, Malaysia, Myanmar, the Philippines, Singapore, Thailand and Vietnam. The East Asia summit groups ASEAN, plus Australia, China, India, Japan, New Zealand and South Korea.