President Barack Obama said former Russian President Vladimir Putin and his hand-picked successor should expect an in-person reminder the Cold War is over when the U.S. leader makes his first trip to a Moscow summit.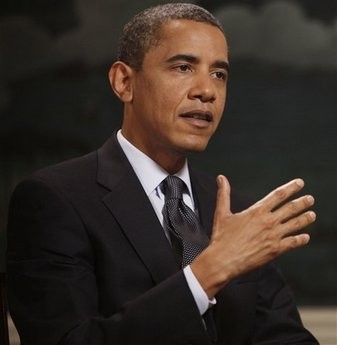 President Barack Obama gestures during his interview with The Associated Press, Thursday, July 2, 2009, in the West Wing of the White House in Washington
Days before he departs for Russia, Obama said Thursday that Putin "still has a lot of sway" in his nation as its nominal prime minister. "I think that it's important that even as we move forward with President Medvedev that Putin understand that the old Cold War approaches to U.S.-Russian relations is outdated," he said. "Putin has one foot in the old ways of doing business and one foot in the new."
In an interview with The Associated Press, Obama discussed a wide range of topics:
Scheduled to depart Sunday for a trip to Russia, an international summit in Italy and his first trip to Africa as president, Obama praised Moscow for its cooperation in international efforts to persuade North Korea and Iran to abandon their nuclear development programs. After North Korea conducted an underground nuclear test in May, the United Nations approved "the most robust sanction regime that we've ever seen with respect to North Korea," he said.
He expressed optimism he could get international agreement for even tougher action if North Korea persists in defying demands that it dismantle its nuclear weapons and stop production. The U.N. sanctions, for instance, did not include one thing the U.S. wanted: allowing the use of military force to board and inspect ships suspected of carrying banned weapons.
"In international diplomacy, people tend to want to go in stages," Obama said. "There potentially is room for more later."
The main agenda item for Obama and Russian President Dmitry Medvedev in Moscow is to advance talks on a new strategic arms reduction treaty to replace one that expires in December.
In addition to sitting down with Medvedev, Obama also is meeting with Putin, the former president who now is prime minister but still a major force.
He said Medvedev understands that, but Putin needs convincing that the U.S. wants cooperation rather than "an antagonistic relationship."
On Afghanistan, Obama said he intends to reassess the possible need for additional U.S. troops after the nation holds national elections in August, but that he believes America's key goals can be met there "without us increasing our troop levels." He has ordered 21,000 more troops to Afghanistan this summer, bringing the U.S. total to 68,000.
Minutes before his vice president, Joe Biden, landed in Iraq for a two-day visit, Obama said he was confident — but not certain — that the timetables for removing U.S. troops from that war will hold. This week marked a major milestone in the war when U.S. troops pulled out of major Iraqi cities.
"I reserve the right to make changes based on changing circumstances to protect U.S. security," he said.
With joblessness rising, the president said he was "deeply concerned" that too many families are worried about "whether they will be next."
New government figures out Thursday showed the unemployment rate grew to 9.5 percent last month, and economists agree it is likely to rise into the double digits. Since Obama signed the $780 billion economic stimulus bill in February, the economy has shed more than 2 million jobs.
"What we are still seeing is too many jobs lost," said Obama.