US Democratic presidential hopeful Barack Obama arrived in Germany from Israel on Thursday at the start of the European leg of his week-long international tour.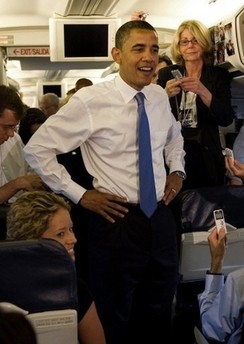 US Democratic presidential candidate Barack Obama talks to the media on his campaign airplane. Obama has arrived in Germany from Israel at the start of the European leg of his week-long international tour.(AFP/Paul J. Richards)
Obama, whose flight touched down at the military section of Berlin's Tegel airport at 9.50 am (0750 GMT), was due to meet German Chancellor Angela Merkel, Foreign Minister Frank-Walter Steinmeier and Mayor Klaus Wowereit.
Later Thursday he will deliver what his campaign has called a major speech on transatlantic relations in the German capital's Tiergarten park before a crowd expected to reach tens of thousands.
He will continue on to Paris on Friday and London on Saturday before returning to Chicago.
Germans have followed the US election campaign intensely and the vast majority -- 76 percent according to a recent poll -- would vote for Obama if they could versus just 10 percent for his Republican opponent John McCain.
The Illinois senator has frequently drawn comparisons with former US president John F. Kennedy, who entered the history books with his "Ich bin ein Berliner" vow to the then-divided city in 1963.
German newspaper columnists wondered whether Obama would match those rhetorical heights in his keenly awaited evening address.
Police have cordoned off a broad section of the city centre around the speech venue, where European bands and DJs are to warm up the crowd before Obama takes the stage at around 7:30 pm.
The presumptive candidate will speak at the Victory Column, a 19th century monument to defeats of France, Austria and Denmark in successive wars and more recently, a venue for the wildly popular Love Parade techno parties.