US President Barack Obama called for a 21st century defined by broad US-China cooperation as the two countries sought common ground on reviving the global economy and fighting climate change.
China and the United States were due to wrap up in-depth two-day talks on Tuesday after Obama laid out a vision of "cooperation, not confrontation" between the Pacific powers but also nudged China on its human rights record.
"The relationship between the United States and China will shape the 21st century, which makes it as important as any bilateral relationship in the world," Obama said as he inaugurated the dialogue on Monday.
"That reality must underpin our partnership. That is the responsibility we bear," he said.
In what appeared to be a coordinated new slogan, both Obama and Chinese President Hu Jintao, who sent a message to the meeting, said they sought a "positive, constructive, and comprehensive relationship."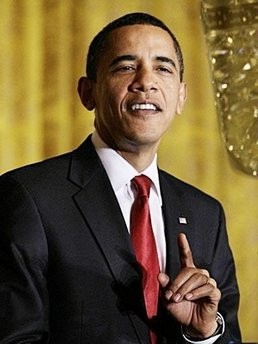 US President Barack Obama
The dialogue, involving Secretary of State Hillary Clinton and Treasury Secretary Timothy Geithner, revamps an earlier set of talks launched under former US president George W. Bush in 2006 that focused solely on economic issues.
But a US official inside the closed-door talks acknowledged that China -- now the top creditor to the heavily indebted United States -- aired "serious concerns" about the outlook of the US economy.
China has in recent months fretted aloud about the safety of its more than 750 billion dollars invested in US Treasury bonds, turning the tables after years of US-led pressure on Beijing on trade issues.
Yet both sides said they hoped to deepen understanding between the world's largest developed and developing nations, whose relationship has often been testy.
"We are in the same big boat that has been hit by fierce wind and huge waves," said State Councilor Dai Bingguo, who led the Chinese delegation along with Vice Premier Wang Qishan.
"What we can do is to try to cross the stormy weather together as passengers on this boat," Dai said.
David Shear, director of China affairs at the State Department, said that the talks were "very constructive, very candid," but mostly general.
"We're going to spend most of our time getting to know each other," Shear told reporters on a conference call, saying the two sides would identify common interests to pursue in future sessions.
Todd Stern, the US special envoy on climate change, said the Chinese were eager to work with Washington to clinch a new global treaty, despite longstanding differences between rich and developing nations.
"I think there's a lot of interest on the Chinese side fundamentally to arrive at a constructive and successful outcome in Copenhagen," Stern said, referring to a December conference in the Danish capital to finalize a climate treaty.
Obama's comments on China were effusive for US leaders, who have generally hesitated at describing the relationship as the "most important" in the world.
Clinton used such language during her failed presidential bid, raising concerns among some other Asian nations, particularly Japan, that the United States would overlook their interests.
Both Clinton and Obama, while pledging not to see China as a rival, also acknowledged differences with the rising Asian power -- especially on human rights.
Obama said that the United States respected China's "ancient culture" but added: "We also strongly believe that the religion and culture of all peoples must be respected and protected, and that all people should be free to speak their minds.
"That includes ethnic and religious minorities in China, as surely as it includes minorities within the United States," said Obama, the first president from the historically oppressed African-American community.
The US-China dialogue comes shortly after the eruption of ethnic violence in China's Muslim-majority Xinjiang province, which left at least 192 people dead.
Leonard Leo, head of the US Commission on International Religious Freedom, a bipartisan government advisory body, said the dialogue offered an opportunity as China would ignore any separate talks focused only on human rights.
"China will only take human rights concerns seriously when they are discussed at the highest levels and in tandem with other strategic interests," Leo said.