US President Barack Obama has kept up the pressure on China to revalue its yuan, telling President Hu Jintao to adopt a more "market-oriented" exchange rate for the Chinese currency.
Obama stated his view that it was "important for... a sustained and balanced global economic recovery that China move toward a more market-oriented exchange rate," said senior National Security Council official Jeff Bader after a face-to-face meeting of the two leaders.
US lawmakers have threatened sanctions against Beijing, saying that China's action to keep the yuan artificially low against the dollar had resulted in a ballooning US trade deficit and a loss of American jobs.
But Hu delinked the yuan's value from the US trade deficit or the nearly 10 percent unemployment grappling the United States.
"RMB (renminbi or yuan) appreciation would neither balance Sino-US trade nor solve the unemployment problem in the United States," Hu told Obama, according to China's official Xinhua news agency.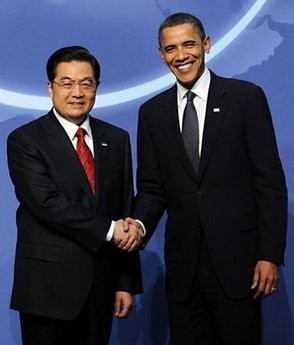 US President Barack Obama (right) greets his Chinese counterpart Hu Jintao during the Nuclear Security Summit in Washington, DC.
The two leaders met in Washington on sidelines of a 47-nation nuclear security summit following a stormy period in US-China relations over the yuan and trade disputes as well as issues such as Internet freedom, Tibet and Taiwan.
International critics say that China keeps the rate of its yuan artificially low against other foreign currencies to boost exports.
But China defends its exchange rate policy as necessary for the survival of Chinese manufacturers and to support jobs growth.
Bader said the yuan issue cropped up as the two leaders reviewed the situation of the global economy, recovering from the worst financial crisis in decades.
Speculation mounted last week that China was preparing to alter its exchange rate policy and allow for the yuan to appreciate, after US Treasury Secretary Timothy Geithner made a hastily arranged visit to Beijing.
Facing election-year pressure over unemployment, US lawmakers had been pushing the US Treasury to label Beijing a "currency manipulator" -- a move that would open the door to sanctions by Washington.
But the Treasury announced the delay of a report that was due in mid-April and which could have slapped China with the "manipulator" tag, with Geithner saying there were better ways to advance US interests.
China made its currency a little flexible in 2005 following US pressure but when the global financial crisis erupted in 2008, it repegged the yuan to the US dollar to prop up Chinese exports and revive the economy.
Between 2005 and 2008, China allowed the yuan to appreciate by about 20 percent against the dollar but some experts say the Chinese currency is now undervalued by up to 40 percent.
Obama also asked Hu Monday to remove China's "market barriers" that have become a concern to American business leaders.
"The president also noted his concern over some market access issues, market access barriers, in China and the need to address them as part of the rebalancing effort," Bader said.
He did not identify the barriers but a recent US government report to Congress said China had erected new hurdles to foreign competition with rules favoring domestic firms.
The report by US Trade Representative Ron Kirk cited a directive by China stipulating that sellers of high-tech goods must contain Chinese intellectual property for them to be included in a government procurement catalogue.
Accredited products will be favored, according to the policy, which foreign firms say effectively excludes them from the process.
A recent American Chamber of Commerce in China survey found that 38 percent of members felt unwelcome to participate in China's market, up from 26 percent in the fourth quarter of 2009.
The survey cited discriminatory government policies and inconsistent legal treatment.