US President Barack Obama joked about his diminished approval ratings at an annual dinner with US journalists."It's been quite a year since I've spoken here last. Lots of ups, lots of downs, except for my approval ratings, which have just gone down," Obama said.
He also poked fun at conservatives who persist in claiming the Hawaii born president is not a native of the United States, at the annual White House Correspondents dinner.
"But that's politics. It doesn't bother me. Besides, I happen to know that my approval ratings are still very high in the country of my birth."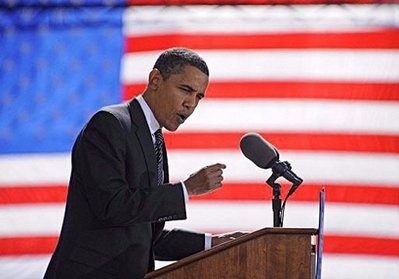 US President Barack Obama
Obama was Sunday heading off for a tour of emergency efforts as a humanitarian disaster unfolds with a huge oil slick bearing down on the Gulf Coast.
The black tie dinner is a once-a-year chance for Washington insiders who toil in the minutiae of policy and the drudgery of everyday news coverage, to rub shoulders with the elite of the showbiz and business worlds.
Invited Hollywood royalty at the dinner in the cavernous basement ballroom of the Washington Hilton hotel included Michael Douglas, Steven Spielberg and teen pop sensation Justin Bieber.
Other celebrities spotted were Scarlett Johansson, star of "Lost in Translation," singer and actress Queen Latifah, film director Oliver Stone and Oscar-winner Morgan Freeman.