President Barack Obama held "candid" talks with heavyweight national security advisors Wednesday on saving the US mission in Afghanistan, edging closer to a decision on whether to deploy more troops.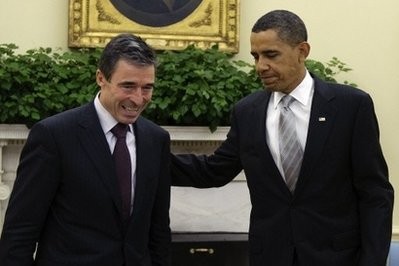 US President Barack Obama meets with NATO Secretary General Anders Fogh Rasmussen at the White House in Washington, DC on September 29.2009. (AFP Photo)
As Obama huddled with top military and civilian brass in the secure White House Situation Room, his administration also counter-attacked against Republicans who accuse the president of dragging his feet in sending more US soldiers to war.
"In today's meeting, the president engaged his national security team in a candid assessment of the progress that has been made and the challenges we still face in Afghanistan and Pakistan," Obama spokesman Robert Gibbs said.
The intense talks, among top officials with varying perspectives on the war, grouped administration heavy-hitters including Vice President Joe Biden, Secretary of State Hillary Clinton and Defense Secretary Robert Gates.
Obama also called on top military leaders and, taking part by video link-up, war commander General Stanley McChrystal, who warned in a leaked report that the conflict could be lost within a year without more troops.
The White House says Obama will only decide on whether to accept McChrystal's request for up to 40,000 more troops -- as part of a rigorous counter-insurgency push -- after first arriving at a new US strategy.
The process could take weeks, officials say, warning that past conflicts like the Vietnam war have shown the folly of throwing thousands of men into a fight that is not properly defined.
Obama will next hunker down with top officials on Afghanistan on October 7.
The White House meanwhile accused its critics of "game playing" over critical troop deployment decisions after a top Republican lawmaker, Eric Cantor, claimed Obama's delays were putting the lives of troops at risk.
"I would say this to Congressman Cantor and everybody else: the American people deserve an assessment that's beyond game playing," Gibbs said.
"The men and women in Afghanistan that we've sent to serve and protect our freedom deserve that."
Cantor said in an interview with Wednesday's Washington Times newspaper that Obama's "uncertainty" over future war strategy was "troubling."
"Listen, you've got American lives on the line over there," Cantor said. "As long as they are delaying, that puts in jeopardy, I believe, our men and women."
Other Republicans also pushed for a fast decision to send more troops into the conflict.
"Time is not on our side, we need a decision pretty quickly," Senator John McCain, Obama's defeated 2008 election opponent, told ABC News.
McCain said Obama would put America in "much greater danger" if he decided not to deploy more soldiers.
Obama is considering whether current US tactics and force levels, which will reach 68,000 troops by the end of the year, are the best way to defeat Al-Qaeda in Afghanistan and Pakistan.
Some experts, however, doubt whether even a deployment of 40,000 more men will be sufficient to subdue the insurgency. They advocate a narrower strategy of surgical strikes designed to squeeze Al-Qaeda.
The president is also coming under pressure from top Democrats and liberal supporters who oppose escalating the war.
Obama's task in building political support for any troop increase is being complicated by the fraud-tainted Afghan presidential election and widespread mistrust in Washington over the government of President Hamid Karzai.
The US military has declined to reveal the details of McChrystal's troop request but McCain said in a weekend television interview that the commander had appealed for 30,000 to 40,000 troops.
Gates has said he will only formally convey McChrystal's request to Obama once the policy review is complete, and denied any rifts between the Pentagon and some skeptics of troop increases in the White House.