WELLINGTON, Sept 23, 2010 (AFP) - The problems experienced in the lead-up to the Commonwealth Games in New Delhi showed the event may need to be scaled back in future, New Zealand's chief de mission Dave Currie said Thursday.
Currie said the multi-billion dollar budget needed to host the Games was putting it beyond the ability of most countries in the Commonwealth grouping, consisting mainly of former members of the British empire.
"There does need to be some reality about the nature of the facilities required, otherwise not only emerging countries will struggle to hold them, I think any country will," he told reporters in a teleconference from Delhi.
Currie said the Delhi athletes' village, the centre of controversy over unsafe and unhygienic accommodation, was an example of the overkill that now accompanied the event.
"The village here is far bigger and far more over spec (specifications) than is necessary for the Commonwealth Games," he said.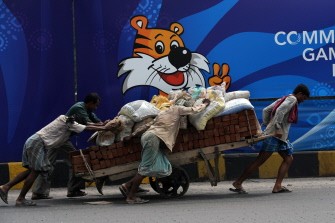 Indian workers push a cart in front of a banner with the Commonwealth Games mascot in New Delhi on September 23, 2010. AFP
He said New Zealand, a country with a reasonably strong economy, had decided against bidding for a future edition of the Games earlier this year because it was too expensive.
"It's just getting too tough," he said. "It's a question of the Games themselves and what they will look like post Glasgow (in 2014)."