New Zealand prepared for further destruction on Sunday as aftershocks and an approaching storm threatened an area hit by the most devastating earthquake in decades.
Prime Minister John Key said it was "a miracle" no one had died when the major 7.0 magnitude quake wreaked more than a billion dollars of damage on the nation's second-biggest city of Christchurch.
Civil defence officials warned that ongoing aftershocks with magnitudes of up to 5.4, coupled with a ferocious storm blowing in, could threaten already-weakened buildings.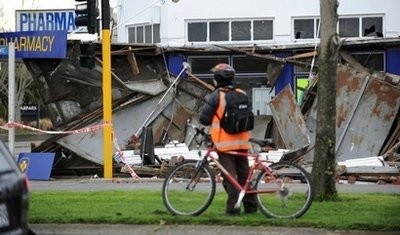 A cyclist (C) inspects a damaged pharmacy in New Zealand's second largest city Christchurch following a powerful 7.0 magnitude earthquake.
Despite widespread damage, none of the city's 340,000-strong population died when the quake struck before dawn Saturday.
"The only conclusion you can draw is that it's a miracle nobody was killed," Key said as he surveyed the devastation.
"Parts of the city look like they've been put in the tumble dryer and been given a darn good shake."
Engineers praised New Zealand's stringent building standards in the earthquake prone country for the limited damage.
"There?s no doubt it?s a very, very significant reason why there wasn?t more destruction," the director of the Joint Centre For Disaster Research at Wellington?s Massey University, David Johnston, said.
Central Christchurch remained cordoned off Sunday although most of the power, water and sewage facilities that were cut in the earthquake had been restored.
Emergency evaluation teams picked their way through streets piled with rubble and littered with shattered glass to inspect buildings and determine whether evacuations were necessary.
Some coastal and riverside suburbs "are the worst-hit areas in the city and public health issues may yet force evacuations", the civil defence agency said in a statement.
More than 200 people have moved into welfare centres for temporary accommodation while hundreds more sheltered with friends after fleeing damaged homes.
The Salvation Army said it was feeding 1,000 people and launched an appeal for those affected by the quake.
"New Zealanders are reeling from the disaster that struck Christchurch this weekend," Salvation Army national fundraising coordinator Major Robbie Ross said.
"Not since the 1930s have we experienced an earthquake as severe and it is important that we do everything we can to help."
Key also pledged government support, with initial damage estimates at two billion dollars (1.44 billion US).
"We are here to support them. We are not going to let Christchurch suffer this great tragedy on its own," Key said.
The earthquake was New Zealand's most destructive since the 1931 tremor in Napier that killed 256 people.
Although nobody died in Saturday's quake, civil defence officials warned the emergency was not over as more than 30 aftershocks had hit the region within 24 hours of the main quake and were likely to continue for several weeks.
A forecast storm was also likely to bring fresh challenges with wind gusts up to 130 kilometres (80 miles) an hour expected after nightfall Sunday with heavy rain to follow on Monday.
"The strong winds could result in further damage to buildings and structures already damaged in yesterday's earthquake," the civil defence statement said.
"Rain is likely to create stormwater issues for already stressed city infrastructure as well as create problems for residents who have properties that have been damaged and may now be exposed."
A fresh threat arose late Sunday when it emerged the flood defences of the Waimakariri River just north of the city had been weakened and it was feared it would burst its banks if the approaching rain caused the river to swell.
Hundreds of families in the area were warned to be ready to evacuate.