The New York Times plans to roll out local editions in Chicago and other major US cities, the newspaper said Wednesday, in addition to a San Francisco edition it intends to launch later this year.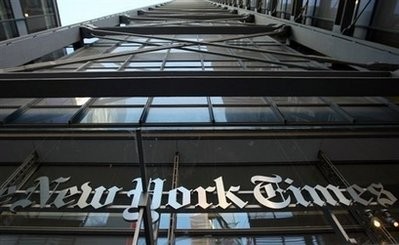 The New York Times headquarters in New York City. (AFP Photo)
"We're in conversations with potential news providers in Chicago about adding local content to The Times," Times spokeswoman Diane McNulty told the newspaper.
"Our intent is to roll out these expanded reports in several key markets around the country, with Chicago following San Francisco," she said. "The details are still being discussed. The idea is to provide additional quality local content for our readers."
The Times said the San Francisco edition would involve adding two additional pages of news about northern California twice a week.
It said the additional content would initially be produced by Times writers but eventually turned over to a local partner.
The New York Times is not the only US newspaper seeking a greater foothold -- The Wall Street Journal is also reportedly planning a San Francisco edition.
The moves come as US newspapers are reeling from a steep drop in print advertising revenue, steadily declining circulation and the migration of readers to free news online.