OSLO, July 24, 2011 (AFP) - The suspect in Norway's twin attacks that killed at least 92 and wounded 97 says he acted alone, police said Sunday, after some witness accounts said a second gunman had taken part in a mass shooting.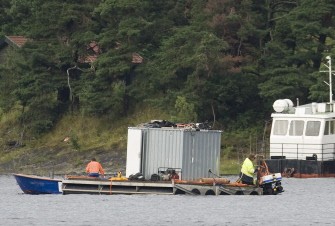 AFP - Search and rescue workers pull a mini submarine out of the water after searching for bodies on Utoeya island, northwest of Oslo on July 24, 2011
But police are still trying to establish whether there was "one or several" shooters at Friday's attack on a Labour Party youth meeting on Utoeya island, northwest of Oslo, police commissioner Sveinung Sponheim told journalists.
"During questioning, he said he acted alone," Sponheim said. "We will try to verify this through our inquiry."
Sponheim said that the attacks wounded 97 people, giving a toll for the injured for the first time.
"There are still people missing in the governmental quarter" targeted by the bombing shortly before the shooting, a police spokesman told AFP without saying how many.
According to the police, seven people were killed and 30 wounded in the bombing while 85 were killed and 67 wounded during the shooting.