OSLO, July 26, 2011 (AFP) - Authorities considered Tuesday charging Anders Behring Breivik with crimes against humanity over the massacre in Norway as the government leapt to the defence of the police over its handling of the tragedy.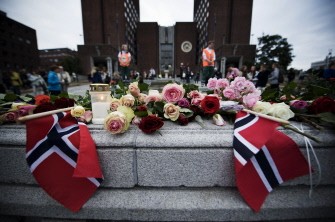 AFP - Oslo's town hall is decorated with flowers by some of the 150,000 people who gathered for a flower vigil on July 25, 2011 in Olso
Faced with the worst crimes on its territory since World War II, many in Norway have been dismayed by the prospect that the perpetrator could serve just 21 years behind bars -- the maximum sentence allowed for the terrorism charges that Behring Breivik currently faces.
But prosecutor Christian Hatlo told the Aftenposten newspaper that police are now envisaging charging him with crimes against humanity for the bombing of Oslo's government district and a shooting spree on a nearby island.
A total of 76 people died in both attacks.
"Police have so far cited... the law on terrorism but seeking other charges has not been excluded," police spokesman Sturla Henreiksboe told AFP.
"No final decision has yet been taken," he said.
Behring Breivik admitted carrying out the attacks at his first court appearance on Monday when he was remanded in custody for eight weeks.
The 32-year-old says he was on a Crusade to save Norway and Western Europe from a Muslim invasion and that the attacks targeting the Labour Party-led government and its youth wing were "cruel" but "necessary".
Police said they would start releasing the names of those killed, many of them children.
"The names of the victims will be progressively released, as the autopsies are completed and the families informed," Heinriksboe said.
The first names will probably be released on Tuesday afternoon or evening, he said.
The police have come in for heavy criticism over over the time it took them to reach Utoeya island where Behring Breivik shot dead 68 of his victims in a spree that lasted around 90 minutes.
It is also emerged on Monday that police investigated Behring Breivik in March for a purchase of chemicals, but the probe was dropped.
The incident was judged too insignificant to warrant a follow-up, Norwegian Police Security Service (PST) head Janne Kristiansen said.
In a press conference on Tuesday, Norway's Justice Minister Knut Storberget hailed the "fantastic" work done by police.
"I had the opportunity to thank police in Oslo and other districts and other organs for their fantastic work," he said after meeting police chiefs.
"These are people who worked much harder than you could expect of anyone, these are people who interrupted their holidays and who volunteered to help from all parts of the country."
Aside from showing a willingness to come to the nation's aid, the minister hailed the efforts of the "men and women of the police" to re-establish "security" and "normality" after the attacks.
United in grief, more than 100,000 flower-carrying Norwegians thronged central Oslo on Monday evening in a vigil for the victims.
Prime Minister Jens Stoltenberg admitted the country would be changed permanently by the attacks, but vowed to ensure it remains an open society.
He told the grimly defiant crowd massed in the city centre: "Evil can kill a person but it cannot kill a people."
Before the attack, Behring Breivik wrote a 1,500-page manifesto in which he boasted he was one of up to 80 "solo martyr cells" recruited across Western Europe to topple governments tolerant of Islam.
Police are probing Behring Breivik's claim that he is part of a network with more active cells.
"The police are investigating all leads and all information pertaining to (Behrin Breivik's) involvement and looking into the possibility that he may have had collaborators," Henriksboe told AFP.
"At this point we cannot comment on the details of the investigation."
Behring Breivik had been hoping to use Monday's court hearing as a platform to explain his actions to the public, but a judge ruled it be held behind closed doors.
Briefing reporters after the arraignment, Judge Kim Heger revealed that the self-styled Crusader told the court he wanted Muslim colonisation of Europe to end.
"The operation was not aimed at killing the largest number possible, but to send a powerful signal that couldn't be mistaken," Heger said.