OSLO, July 25, 2011 (AFP) - Norwegian mass killer Anders Behring Breivik appears before an Oslo judge on Monday, seeking show-trial celebrity as the once placid Nordic nation mourns the 93 weekend victims lying in city morgues.
The 32-year-old self-styled white 'Jihadist' will make his first appearance in a downtown court around 1:00 pm (1100 GMT), for arraignment over a bombing and shooting spree that marked the country's worst violence since World War II.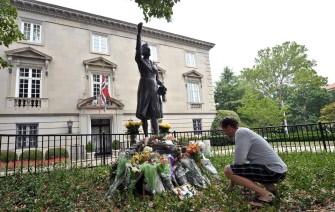 AFP - A man pays his respects after laying flowers at the foots of a statue of Norwegian Crown Princess Martha, mother of current King Harald V, in front of the Norwegian embassy in Washington on July 24, 2011.
The key initial decision to be taken by the judge is whether to order the hearing staged behind closed doors -- away from prying media eyes the world over.
But as a deeply scarred nation of five million returns to work following the devastating blitz of explosives and automatic gunfire, Behring Breivik's lawyer told state television his client wanted a circus.
"He has two wishes: the first is that the hearing is public, and the second is that he may attend in uniform," Geir Lippestad told broadcasters NRK, in a chilling echo of a 1,500-page manifesto distributed moments before his client let rip on Friday.
The tract ends with gun-toting pictures of the steely-eyed Nordic in pre-WWI military get-up.
At least seven people died in an initial blast outside the prime minister's office, in a calculated distraction for police allowing Behring Breivik to mow down 86 more -- mainly youths on the island of Utoeya, 40 kilometres away (25 miles). Others remain unaccounted.
The mostly teenaged victims on the island were attending a gathering of the main ruling Labour party's youth leaders.
Names and photographs are to be released shortly, and Prime Minister Jens Stoltenberg has called for a minute's silence to be held across the nation at noon on Monday.
The list is expected to include offspring of senior ruling party figures. A teary-eyed Stoltenberg labelled the aggressor "evil" during tributes at a memorial mass attended by Norway's royal family and thousands of worshippers on Sunday.
The premier, who will also unveil a public book of condolences on Monday alongside King Harald V and Queen Sonja at the University of Olso, has admitted he knew personally many of the dead.
Behring Breivik currently has only the status of 'official suspect,' meaning he will not learn actual charges until the investigation is concluded with police still hunting for possible accomplices.
But his attacks -- he has admitted the facts, although not "criminal responsability," according to interrogators -- have triggered calls for Norway to reinstate the death penalty,
The maximum prison sentence in Norway is 21 years, meaning -- if found guilty -- the accused could be awarded just 82 days per killing.
Norway famously shot wartime Nazi collaborating leader Vidkun Quisling for high treason in 1945, three years before the last execution in the home of the Nobel Peace Prize.
The murderous "crusade" unleashed by Behring Breivik, who acknowledged in his tract that he would be deemed a "monster," was designed to end a centuries-long Muslim colonisation of Europe, it said.
Although the killer told investigators he acted alone, prosecutors stressed they had yet to uncover a motive -- despite the manifesto claims.
Part diary, bomb-making manual and Islamophobic rant, the decade-long "compendium" detailing the self-styled Knight Templar's "martyrdom operation" includes a call for believers to spawn as many children as possible in order to generate a pool of future European Jihadists in a Christian war he likens to a medieval crusade.
During weekend interrogation, Behring Breivik told police that Europe's deadliest attacks since the 2004 Madrid bombings, carried out by the Al-Qaeda terror network, were "cruel" but "necessary."
Nevertheless, lawyer Lippestad said his client felt he had done "nothing reprehensible."
Police have faced loud criticism over the hour it took them to reach the island, during which victims -- some shot again in the head to make sure they were dead, according to witnesses -- perished at the rate of more than one per minute.