Anders Behring Breivik planned more attacks than the bombing and shooting spree that killed 77 people, Norwegian police prosecutor Paal-Frederik Hjort Kraby said.
"He wanted to do more, that we know. But if he wanted to do that... the same day or (at another time) we don't know for sure," Hjort Kraby told AFP on Saturday.
Norwegian media reported that right-wing extremist Behring Breivik, who has claimed responsibility for the attacks, had also planned assaults on the royal palace and the headquarters of the ruling Labour Party.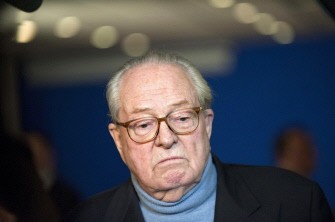 A file picture taken on March 20, 2011 shows the founder and former president of the French National Front party Jean-Marie Le Pen at the party's headquarters in Nanterre, outside Paris after the first round of local elections.
Although it is still not clear whether he acted alone or was working with other "cells," as he claimed following his arrest, police seem to be favouring the first scenario.
Hjort Kraby was asked if he had said anything to investigators about his plans going wrong.
"He has mentioned that he was alone, and that because he was alone the logistics were more difficult, with the cars and the transport, and he's been telling us that's why things took more time than he had expected," he said.
Behring Breivik had been saving money for some time to be able to fund his actions, the police prosecutor added.
"He has said that he's been financing all this by himself, he's been working very hard to save money to use it in his actions," Hjort Kraby said.
"And obviously this is something we're checking by going through his properties and his bank accounts."
The self-confessed killer, who has admitted responsibility but declined to enter a guilty plea, has fully cooperated with police investigations so far, according to Hjort Kraby.
"He's very calm and very willing to talk so from the investigation point of view it's very good," the prosecutor added. "We have not finished and we don't have all the answers."
According to the Verdens Gang tabloid, the royal palace was a possible target because of its symbolic value.
The Labour Party headquarters were also in Behring Breivik's sights, the paper said, because of the party's role in creating the multi-cultural society he loathed so much.
The tabloid, which did not reveal its source, also said investigators suspected Behring Breivik had had trouble making explosives beyond those that killed eight people in the Oslo blast, which targeted government offices.
Another 69 people, mainly youths, were killed in the shooting spree at the summer camp on the island of Utoeya held by the Labour Party's youth wing.
A day after the first victims of the attacks were buried, Norwegians scattered roses in tribute to the country's emergency services, which took the strain in the aftermath of the carnage.
Oslo Cathedral hosted a special service in tribute to the police, ambulance drivers, first aiders and firemen who were among those first on the scene in the wake of the attacks.
As leading politicians and Crown Prince Haakon joined them, the Norwegian Symphony Orchestra and other musicians did them honour.
Norwegian rapper Karpe Diem was among them.
"Never have I loved Norway so much as this past week," he said.
Behring Breivik, 32, believed he was engaged in a struggle to defend Europe against an Islamic invasion and despised anyone who believed in democracy, his lawyer, Geir Lippestad, has told the media.
Lippestad also told a newspaper on Friday that his client had planned to attack other targets.
"There were several projects of different scale for that Friday," Lippestad was quoted as telling Aftenposten.
"Things happened that day, which I don't want to go into (here), which meant events unfolded differently from what he had planned," Lippestad added.
Norway's police intelligence unit, the PST, concluded in a report that there was no cause to raise the threat level in the country, given the "unique" nature of the July 22 attacks.
"In all likelihood, the perpetrator planned and executed these actions without support," the report said.
Psychiatrists are now assessing whether Behring Breivik is legally insane, as prosecutors seek to bring him to trial next year and are expected to report back by November 1.