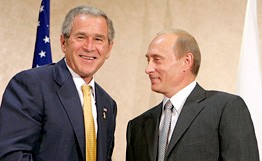 Russian President Vladimir Putin (R) and his US counterpart George Bush in Sydney, 07 September 2007 at the press conference after their meeting prior of the APEC summit opening.
US President George W. Bush and his Russian counterpart Vladimir Putin showed no sign of progress after talks here Friday to defuse tensions over US missile defence plans that have angered Moscow.
The presidents met at a hotel in Sydney ahead of a summit of Asia Pacific leaders and shortly after Putin signed a landmark deal allowing Australia to export uranium to Russia.
Visibly grim after their hour-long meeting, Putin said the talks had been "above all related to missile defence."
But neither man gave any hint of coming any nearer on Washington's plans to deploy a missile shield in Central Europe which have provoked an increasingly tense standoff between the two sides.
The Russian leader said that experts from both sides would meet again soon to inspect a Russian radar station in Azerbaijan that Moscow has proposed using as an alternative to the Central Europe sites.
"In this way we are continuing joint work in this direction," Putin said of that visit.
Moscow says the US plans to deploy elements of a missile defence shield in Poland and the Czech Republic will upset the balance of power, while Washington insists it is aimed against potential attacks from Iran or Democratic People's Republic Korea, posing no threat to Russia.
The talks, which Bush called "both cordial and constructive," also touched on Iran's nuclear programme, Russia's bid to join the World Trade Organisation and environmental issues.