GAINESVILLE, Florida, Sept 11, 2010 (AFP) - Police sent reinforcements Saturday to separate angry activists gathered outside the US church where Korans were to be burned, even though the church's controversial pastor called off the event.
Signs in red letters stating that "Islam is of the Devil" are still posted outside the Dove World Outreach evangelical church, but a large sign announcing that some 200 Korans would be set ablaze on the anniversary of the September 11, 2001 terror attacks was taken down.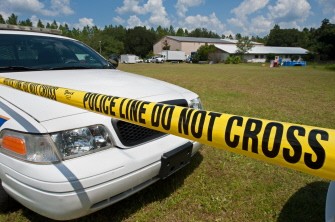 Gainesville Police Department cars are parked around the perimeter of Pastor Terry Jones' Dove World Outreach Center (rear), September 11, 2010 in preparation for expected protests. AFP
After a back-and-forth lasting several days, the church's firebrand pastor, Terry Jones, said Saturday his church will not burn the Korans. "We will definitely not burn the Koran, no," Jones, who was in New York, told NBC television. "Not today, not ever."
The mere threat of torching the Muslim holy book triggered riots and protests around the world -- and attracted supporters and opponents to his tiny church in north-central Florida.
To maintain order, police surrounded the church on Saturday and flooded the streets with officers and patrol cars, checking all vehicles seeking to enter the area.
Police briefly detained and interrogated two men who tried to enter the area in a pickup truck. They pulled several rifles, pistols, boxes of ammunition and ammunition magazines out of the truck and placed them on the vehicle hood, but eventually released the men.
In the late afternoon a man pulled out a Koran and tried to burn it, but police snatched the book and took the man's lighter.
"I wanted to show my support to this church and make a symbolic Koran burning," said the man, who identified himself as Sebastian Bagby from Atlanta.
Activists both in favor and against burning the Koran gathered across the street to see if anything would happen.
"Even if we had to cancel, this was a very good initiative, because people in the United States are afraid of Islam," said Luke Jones, 29, in charge during his father's absence. Like many church officials, Jones has a pistol slung from his waist.
A car rolled up with a picture of the 2001 terror attack on the Twin Towers in New York City on the window, and a statement that read: "In loving memory -- Burn a Koran." Police stop it from entering the area.
Across the street protesters raised a sign that read "No Mosque at Ground Zero -- Impeach Obama," while a man who said he is a friend of Jones drove up in a giant Harley Davidson motorcycle with two giant US flags billowing in the wind.
"I came to support this church and to condemn the Islamic terrorism," said the man, who would give his name only as Charlie.
Police four-wheelers and a paramilitary police SWAT team truck settled in the grass in front of the church, wedged between scores of TV mobile broadcast satellite trucks.
Jones may have canceled the event, but police were taking no chances. "We haven't changed anything ... we will be here until it's not needed any more," said Gainesville police spokesperson Tscharna Senn.
In the early evening a march of some 100 students and Gainesville reached the church to show their opposition to any Koran burnings.
"I'm a former member of this church," said John Jaysmith, who was protesting outside the building. "They are not real Christians. Just look at the symbol of the Christianity ... it's broken."
Jaysmith pointed to the church's large acrylic cross that lights up at night, broken when someone threw a rock at it. A lit sign that names the church and features a dove has also been damaged.