After a surprise visit to Iraq, US President George W. Bush headed Tuesday for Sydney to face anti-war protests and a poll showing most Australians believe he is the worst US leader in history.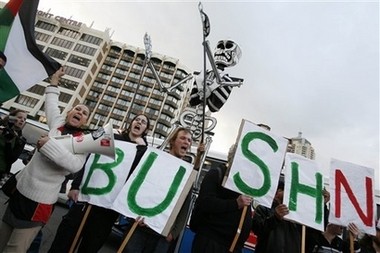 Demonstrator holds a sign denouncing U.S. President George W. Bush during a small anti-Iraq war protest Tuesday Sept. 4, 2007 in Sydney, Australia.
The city is locked down tight against possible terror attacks and violent demonstrations during Bush's visit and a weekend summit here of Asia Pacific leaders.
As he flew toward Sydney, North Korea emerged as a key focus after the top US nuclear negotiator said the communist state had to do more to dismantle its atomic programme to be taken off a US list of state sponsors of terrorism.
Trade and climate change also figure high on the agenda for the 21-member Asia Pacific Economic Cooperation (APEC) forum.
Bush's detour to Iraq came as a showdown looms in Congress over the deeply unpopular war, more than four years after the US-led invasion.
Under intense pressure to start pulling US troops out of the conflict, Bush talked up progress and said a reduction in numbers was possible.
If the US leader was hoping his visit to Sydney would give him a break from the pressures of the bloody insurgency, he is destined to be disappointed.
An established anti-war group called the Stop Bush Coalition called a small "unwelcoming ceremony" in Sydney to kick off a series of protests culminating in a march by up to 20,000 people on Saturday.
Police have launched a court battle against the march, saying it poses a serious security threat if it is allowed to proceed past the US consulate in the city centre.
Bush will skip the summit's second day Sunday to return to Washington for a report to Congress on progress in Iraq by top US general David Petraeus.
Prime Minister John Howard is a strong supporter of the US leader, but an opinion poll published here showed most Australians believe Bush is the worst US president in history.
Meanwhile, climate change campaigners staged protests for a third straight day calling for APEC action to cut the emission of greenhouse gases blamed for global warming.
Police arrested at least 11 demonstrators after they chained themselves by the neck to equipment at the world's biggest coal port, Newcastle, to the north of Sydney.