North Korea has proposed resuming a programme of reunions for families separated by the division of the Korean peninsula despite icy relations between Pyongyang and Seoul, state media said Saturday.
The North's Red Cross Society suggested a working contact with the South at the earliest possible date to arrange the reunion of separated families at the North's Mt. Kumgang resort on September 22.
South Korea's Unification Ministry said Seoul was considering the proposal "positively".
The proposal was made in a notice sent on Friday by Jang Jae On, chairman of the Central Committee of North Korea's Red Cross Society to his South Korean counterpart Ryu Jong Ha, Pyongyang's Korean Central News Agency (KCNA) said.
It comes despite strained inter-Korean ties in the aftermath of the North's alleged torpedoing of a South Korean warship.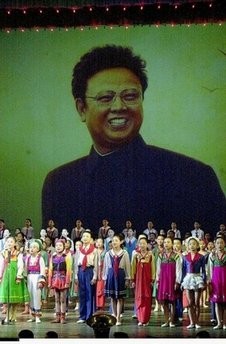 This file picture taken in 2000 shows North Korean youngsters performing in front of a huge portrait of Kim Jong-Il, staged for visiting South Korean family members for the second reunion in North Korea's captial Pyongyang.
Jang said there was a precedent for reunions to mark the traditional folk day of the harvest moon, which falls on September 22 this year, adding that reunions alleviated the pain of separated families.
In an apparent easing of tensions after months of hostility, the North on Tuesday returned a South Korean fishing boat and its seven crew seized a month ago and requested flood aid from its neighbour.
Professor Yang Moo-Jin, of the University of North Korean Studies, said the North's proposal was apparently aimed at sweetening the atmosphere in order to obtain as much aid as possible from the South.
In September last year, hundreds of Koreans had tearful reunions with relatives they had not seen for almost 60 years, as the humanitarian programme was resumed after a two-year hiatus.
But reunions petered out after Seoul ignored Pyongyang's request for massive food and fertiliser aid.
A conservative government which took office in Seoul in February 2008 took a tougher stance toward the nuclear-armed North Korea, suspending annual shipments of food and fertiliser.
Inter-Korean ties hit a new low after South Korea and its allies punished the North with fresh sanctions, accusing it of torpedoing one of its warships near their disputed sea border in March, killing 46 sailors.
Professor Yoo Ho-Yeol, of Korea University in Seoul, said the new proposal was also designed to pave the way for dialogue with Washington.
Kurt Campbell, the US assistant secretary of state for East Asia, said Thursday that Washington wanted North and South Korea to ease soaring tensions before negotiations resume on ending Pyongyang's nuclear disarmament drive.
Campbell said the United States was in "deep consultations" on the next step forward. Stephen Bosworth, the US pointman on North Korea, is due in Asia next week for talks.
US-allied South Korea has been uneasy about Chinese-backed calls to resume six-nation talks on North Korea's nuclear drive, saying that its communist neighbor first needs to demonstrate its seriousness.
South Korea and the United States have called on the North to admit responsibility and apologise over the sinking, although it has been unclear whether they consider it an non-negotiable condition for talks.
The US diplomatic push comes as North Korea's ruling party holds a rare meeting, which many analysts believe will anoint ailing leader Kim Jong-Il's youngest son Kim Jong-Un as the 68-year-old's successor.