North Korea has promoted leader Kim Jong-Il's youngest son to general, state media said Tuesday ahead of a rare party meeting widely expected to anoint him as eventual successor to his ailing father.
The announcement that Kim Jong-Un is now a four-star general was the first time official media in the reclusive communist state has carried the name of the young man, who remains an enigma overseas.
It came hours before the scheduled opening of a communist party conference on Tuesday, the highest-level political meeting in three decades.
Analysts said the promotion makes it virtually certain the Swiss-educated son, believed to be aged about 27, will one day step into his ailing father's shoes as ruler of the impoverished nuclear-armed nation.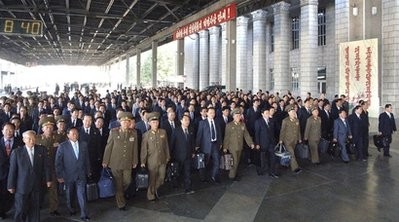 In this photo released by Korean Central News Agency via Korea News Service, delegates to the ruling Worker's Party meeting make their way upon arriving at Pyongyang station, North Korea, on Monday Sept. 27, 2010.
Also appointed four-star generals were the leader's sister Kim Kyong-Hui and Choe Ryong-Hae, a longtime aide to the Kim dynasty which has ruled with an iron fist since the country was founded in 1948.
As of mid-morning there was no official word that the Workers' Party conference had begun as scheduled. But media has carried photos of crowds of delegates -- in suit and tie or military uniform -- arriving for the event.
"Long live the revolutionary ideology of the great leader, comrade Kim Il-Sung!" read one banner in reference to founding leader Kim Il-Sung, who died in 1994 but has been declared president for eternity.
At the last major ruling party meeting in 1980, Kim Jong-Il was confirmed as eventual successor to his father Kim Il-Sung.
Kim, 68, reportedly has kidney problems and had a stroke two years ago, making a succession process more urgent.
But until Tuesday Jong-Un's name had never been carried by official media. No adult photo of him has been seen outside the secretive country.
Kim Kyong-Hui, 64, is married to Jang Song-Thaek, who is widely seen as the nation's second most powerful man.
She and her husband are thought likely to act as guardians for the young and inexperienced son if the leader dies or is forced to step down due to ill health.
The conference will take place amid high regional tensions sparked by the deadly sinking of a South Korean warship in March, and a deadlock in six-nation nuclear disarmament talks.
The South, the United States and other nations accuse the North of torpedoing the ship, a charge it denies.
"Kim Jong-Un's promotion (to general) means he is definitely going to be the successor," Yang Moo-Jin of Seoul's University of North Korean Studies told AFP.
The party conference will serve as a stage to announce his official status as successor, Yang said, adding the son is likely to be made a member of the party's top body the politburo presidium, party secretary in charge of personnel changes and a member of its central military commission.
"There could be some strife within the ruling elite but a military coup or any other major upheaval is hardly likely because the elite think they and the Kims are in the same boat," Yang said.
"Such conflicts might become latent or rise to the surface depending on how well Kim Jong-Un's guardians back him up."
Paik Hak-Soon of South Korea's Sejong Institute think-tank also said Jong-Un was likely to join the presidium and the central military commission this week.
"Considering he was now given a general's position, it would look very strange if he did not join the central military commission," Paik told AFP.
"This (promotion) is clearly aimed to boost the mood ahead of the meeting."
Paik said the speed of the process "apparently signals that Kim Jong-Il's health is failing fast. Otherwise he would have never promoted the son so quickly, worrying he himself would become a lame duck."
He said Jang and Kang Sok-Ju, who was promoted last week to a vice premier, would likely become the key men to assist the son -- with Jang taking care of domestic affairs and Kang overseeing international diplomacy.
Paik said some 1,500-2,000 delegates would convene for the conference, which was likely to last more than one day at least.