North Korea told visiting Chinese Premier Wen Jiabao on Sunday that it was open to bilateral and multilateral talks on its nuclear programmes, state media in the isolated country reported.
The report said the comments were made during talks between North Korean Premier Kim Yong-Il and Wen, who arrived in North Korea earlier in the day.
The North Korean premier and the host delegation "expressed the will to realise the denuclearisation of the Korean Peninsula, the behest of President Kim Il-Sung, through bilateral and multilateral dialogues," the Korean Central News Agency (KCNA) said.
KCNA was referring to the founder of North Korea and father of current leader Kim Jong-Il.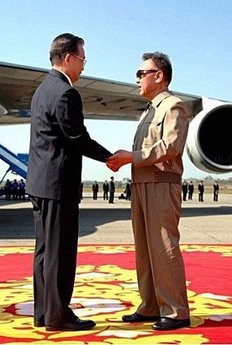 Chinese Prime Minister Wen Jiabao (L) shaking hands with North Korean leader Kim Jong Il upon his arrival at the Pyongyang Airport.
The report added Pyongyang in the talks said the United States "is to blame for the occurrence of the nuclear issue on the Korean Peninsula..."
Despite recent conciliatory gestures to Washington and neighbour Seoul, Pyongyang has consistently maintained it must keep its nuclear deterrent in the face of what it terms US nuclear threats.
But the comments about talks on the nuclear issue appeared to be the latest indication of Pyongyang's apparent willingness to return to six-nation disarmament talks that it broke off earlier this year.
Kim Jong-Il made similar remarks last month to a visiting Chinese envoy.
The North Korean leader made a rare airport appearance to host a red-carpet welcome for Wen, TV footage showed, in an apparent sign of Pyongyang's eagerness to improve ties with its closest diplomatic and economic ally.
Kim, wearing his trademark brown boiler suit, hugged and shook hands with Wen, the most senior Chinese figure to visit North Korea since President Hu Jintao in 2005.
A guard of honour was mounted and women waving Chinese flags greeted the visitors. Kim's visit to Sunan airport was the latest in a series of public appearances following his recovery from an apparent stroke in August last year.
Wen is accompanied on his three-day visit by Foreign Minister Yang Jiechi and Wu Dawei, China's envoy to the stalled six-nation disarmament talks, China's Xinhua news agency reported.
During his meeting with the North Korean premier, Wen appeared to urge Pyongyang to come back to the negotiating table and pursue denuclearisation.
"Supporting this objective safeguards the peace and stability of the Korean peninsula and Northeast Asia and is in line with the interests of all relevant parties including North Korea," Wen was quoted saying by Chinese television.
"Achieving denuclearisation through dialogue and consultation is the universal consensus of the world community and the essential path for resolving the Korean peninsula nuclear issue."
China has termed Wen's visit a "goodwill" trip to mark the 60th anniversary of diplomatic relations, but nuclear issues figured to be high on the agenda.
Pyongyang strained ties with Beijing when it staged its second nuclear test in May, after quitting the six-party talks hosted by China the previous month.
China supported tougher United Nations sanctions imposed following the test.
Since August the North has made peace overtures to the United States and South Korea, which are also involved in the talks along with Japan and Russia.
The North is pressing for bilateral talks with the US to end the nuclear standoff.
South Korea's Yonhap news agency has said Kim could make an "important announcement" during Wen's visit.
It said he was expected to state his willingness to give up nuclear weapons and make detailed suggestions, while delivering his position on whether he wants six-party talks or a different form of dialogue.
Yonhap said Wen and Kim Jong-Il were to hold talks on Monday.
"China is expected to pledge a package of economic assistance. In return, Kim will have to express his clear position on nuclear disarmament," said Koh Yu-Hwan, a North Korea expert at Seoul's Dongguk University.
"Kim is certain to give a clearer pledge about denuclearisation, leaving the door open for its return to six-party talks," he told AFP.
"Yet North Korea may not return to six-party talks soon as it wants bilateral talks with Washington," Koh said.
Washington has said it is willing in principle to hold bilateral talks but only as a way to restart the six-party forum.
It is expected to await the outcome of Wen's visit before announcing whether it will send its envoy on North Korea, Stephen Bosworth, to Pyongyang.