SEOUL (AFP) – The youngest son of ailing leader Kim Jong-Il has been given powerful posts in North Korea's ruling party, state media said Wednesday, confirming his status as heir apparent in the nation.
Kim Jong-Un was named one of two vice-chairmen of the central military commission of the Workers' Party of Korea and a member of its central committee, a day after his father appointed him a four-star general.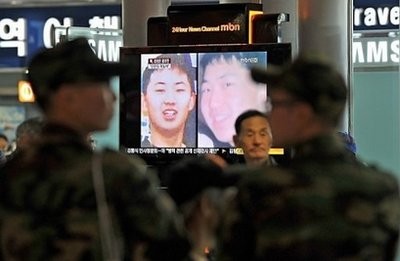 South Korean soldiers are seen near a TV screen with images of what is believed to be Kim Jong-Un at a railway station in Seoul. AFP
"Now the crown prince has all he needs to become the next leader," said Choi Jin-Wook, senior analyst with the (South) Korea Institute for National Unification.
Jong-Un's high position on the party military commission chaired by his father gives him considerable authority.
The speed of his rise to power may indicate that his 68-year-old father's health is worse than believed, analysts said.
Kim Jong-Il, who took over from his own father and national founder Kim Il-Sung, suffered a stroke two years ago and is also thought to have kidney problems.
The Swiss-educated son, believed aged about 27, had never been named in state media before this week. No adult photograph has been seen outside the secretive communist nation.
The United States is "watching and looking for details (on the son) just about like everyone else," said Assistant Secretary of State Kurt Campbell.
Jong-Un's party appointments were announced after a one-day conference of the Workers' Party, its highest-level gathering for 30 years.
The meeting also appointed the leader's sister Kim Kyong-Hui as a member of the party political bureau. Her powerful husband Jang Song-Thaek was made an alternate member, and also appointed to the military commission and the central committee.
The couple are seen as key supporters of the untested son and likely to act as regents as he gains experience.