North Korea's vice foreign minister Kim Kye-Gwan said he was optimistic ties with Washington would improve as he arrived for rare talks with US officials, Yonhap news agency reported
.
"I believe North Korea-US relations will improve as now is the time for all countries to reconcile," Kim told reporters as he arrived in New York Tuesday, the South Korean news agency said.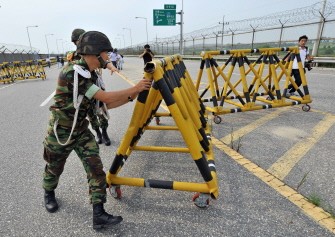 South Korean soldier remove a barricade for trucks carrying 300 tons of flour before crossing the inter-Korean border at a military checkpoint in Paju, north of Seoul, on July 26, 2011
He added that he was "optimistic of the prospects for the six-way talks and the North-US relationship."
Kim said he planned to meet with Stephen Bosworth, the top US envoy on North Korea, on Thursday, but did not give other details of his trip.
The veteran former nuclear negotiator is on his first visit to the United States since March 2007.
US Secretary of State Hillary Clinton announced the visit Sunday, two days after the nuclear envoys of South and North Korea held a surprise meeting on the sidelines of an Asian security conference in Bali.
South Korea's Wi Sung-Lac and Ri Yong-Ho agreed to make joint efforts to swiftly resume the six-party denuclearisation talks which were last held in December 2008.
North Korea in April 2009 announced it was quitting the forum in anger at UN condemnation of its long-range missile launch that month. It staged a second nuclear test in May 2009.
Efforts to restart the talks, which also include China, the United States, Japan and Russia, have been hindered by two deadly border incidents last year which Seoul blames on its neighbour.
The North's disclosure last November of a uranium enrichment plant, which could give it a second way to make atomic weapons, are another complicating factor.
Clinton said Sunday the two sides would have an "exploratory meeting to determine if North Korea is prepared to affirm its obligations under international and six-party talk commitments, as well as take concrete and irreversible steps toward denuclearisation".
She said the United States was not prepared to offer any new concessions just to restart the negotiations, which began in 2003.
bur/mtp/ach