Nine people were killed and two were missing after a

landslide

triggered by torrential rain smashed into a South Korean mountainous region early Wednesday, rescuers said.
The landslide just after midnight in the Chuncheon area 100 kilometres (60 miles) east of Seoul flattened an inn and three homes, they said.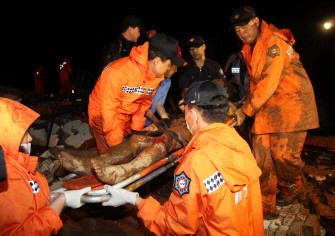 South Korean rescue members carry a victim after a landslide flattened an inn and three homes in Chuncheon, 80 kilometres east of Seoul, on July 27, 2011.
Six of those killed in the inn, near the Soyang River Dam, were college students from Inha University in the western city of Incheon who were in the area for volunteer work.
The National Emergency Management Agency said 20 others were injured, four of them seriously. More than 500 firefighters and police have been sent to the area to speed up the rescue.
Heavy rain also pounded Seoul and the surrounding Gyeonggi province Tuesday and Wednesday. More than 400 cases of flooding were reported in the capital alone, Chosun Ilbo newspaper reported.
The Korea Meteorological Administration said 161 millimetres (around six and a half inches) of rain fell in Seoul between midnight and 9 am Wednesday.