WELLINGTON, Sept 4, 2010 (AFP) - The cost of the devastating 7.0 earthquake in the New Zealand city of Christchurch on Saturday could reach two billion dollars (1.44 billion US), an official said.
The quake, which struck just before dawn, toppled several older buildings and left houses with cracked walls and roofs in the city of 340,000, but remarkably killed no one.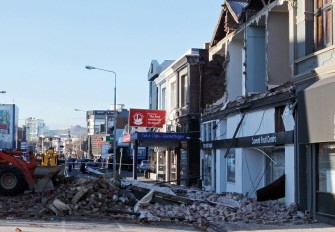 People driving front loaders work on moving rubble blocking Victoria Street in Christchurch on September 4, 2010 after a powerful 7.0 earthquake. AFP
Earthquake Commission chief executive Ian Simpson said they expected about 100,000 quake-related insurance claims.
"And the cost will be easily into the hundreds of millions of dollars just for (the commission) for the residential property... It could reach between one and two billion dollars."
The Earthquake Commission is a government-owned entity tasked with providing cover for natural disasters in New Zealand which lies on the so-called "Ring of Fire" earthquake fault line.
Meanwhile, as residents took stock of their earthquake damage they also had an eye on the weather with destructive gale-force winds up to 130 kilometres (80 miles) an hour forecast for later in the day.
"Winds of that speed can be damaging and with many buildings extensively damaged (by the earthquake) it could cause a major headache for emergency services," a weather service spokesman said.